Kara (4100m) to Muling (3100m)
Day 3 of the trek was relatively easy – we had to cover a distance of 13kms, which was only downhill; after the Bhabha pass crossing, anything would have appeared easy!
But our travails were far from over: It snowed rather heavily the previous night, which was rather un-expected when we camped in the evening. During the night, the splatter of snow on the tents roof was a constant, as there was nothing much that could be done, we slept hoping that the tent would stand till morning. Except for a few drops that made its way inside, a result of condensation, the tents inside was relatively dry. Gopal, who was the first one to make his way outside, cleared the bulk of snow weighing down our tent, and I, who had refused to venture out till the snow melted, came out at around 8:00 AM, inevitably. My shoes, which I had kept at the outer edge of the tent was filled with snow, which meant another day of damp shoe walking 🙁
In the above picture: the green three person tent is ours, the grey house shaped tent is that of the German guide/donkey men's tent. The Blue one is that of the German couple, the orange is Jakes one person tent.
Sonam, as soon as he spotted us gave us a tumbler filled with hot tea which was a treat in that cold morning. For breakfast we had 'maggi' (ready to be boiled noodles). We started the days trek at 10:00 AM.
The first two hours of the days trek was a steady downhill route.
During this descent we crossed a Yak party, probably returning from a trek. The Yaks moved away from our paths as we came face-to-face and rejoined the path behind us, gentle creatures despite their size.


This was only, what can be called as the first level of descent, as we ended in a valley which twists and turns, with crystal clear streams.
As we found out as the day progressed, this was the day of crossing streams. I think we must have crossed around 10 streams, some as narrow as a hop and some requiring careful planning even before taking the first step. As I was walking in shoes which were drying fast I was determined not to wet them again.
During one of those stream crossings Corrina took a fall, the stone on which she had kept her foot had wobbled and she slipped. Good that Kyle had held her hand else the fall could have been worse. Except for a few bruises she was fine and could continue the trek. After this incident the whole trek party became extra wary while crossing the streams. I started to double check the stones firmness before hopping on them. Gopal started walking in the water, not bothering to hop across.
After about an hour of walking in this valley we had to start another steep descent to a valley filled with trees, the first trees we spotted along the trek!

In the above picture: left to right – jake, Gopal, Corrina and Kyle.

Muling, our next camping site was located somewhere along this valley.
While descending to the valley about half a dozen horses herded by two men thundered down the same path as ours, we had to make way for them. Just five minutes from when we saw them first, they had disappeared into the tree cover.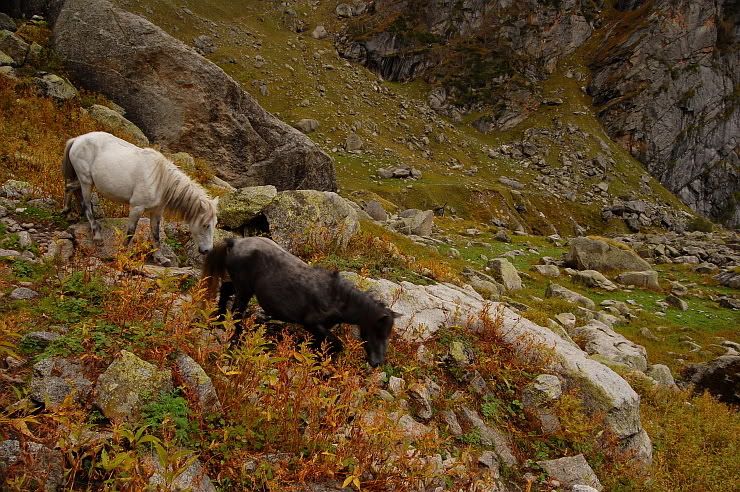 Finally, after about 2 hours of walking we reached our camping site at around 4:00 PM, and as usual Sonam had reached much earlier and had setup his tent.

Herd of Goats grazing on the other side of the river.
I should mention again the drastic change in weather as the Sun went down, what was pleasant climate moments before turned to a chilly evening. Also, as we were in the middle of a valley facing north-south direction, the light faded quite fast by 5:30 PM. In the distance, there was a snow capped mountain range which was waiting to be photographed.

Image properties: Mode = Manual, Focal length = 55mm, Aperture = F/9, Exposure time = 2.5 sec, ISO = 200, Exposure = -1.3 step
The tripod which we were lugging all the way till now came to good use.
After having the usual 'Rice' and 'Dal' for dinner we had all the evening for ourselves. It was full moon; the bright moon lit night over the scenic valley will remain in my memories for a long long time.
I was determined to do some night (long exposure) photography.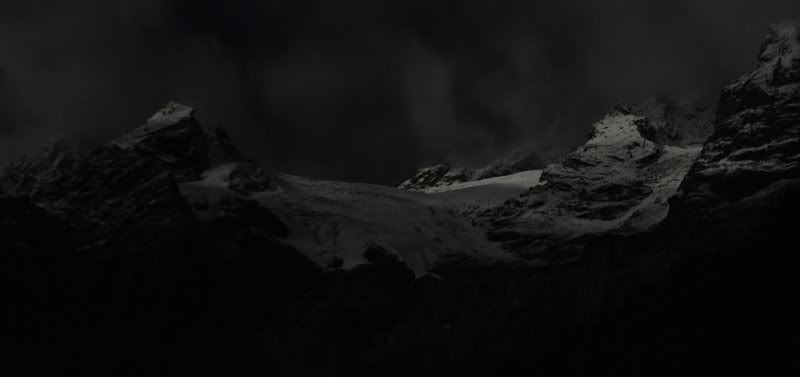 Image properties: Mode = Manual, Focal length = 55mm, Aperture = F/8, Exposure time = 20 sec, ISO = 400, Exposure = -1.3 step
Snow covered peak – photo taken in moon light.

Image properties: Mode = Manual, Focal length = 18mm, Aperture = F/10, Exposure time = 30 sec, ISO = 400, Exposure = -1.3 step
…
the Earth stays still while the Sky moves,
the Moon shines bright while the Sun hides,
and, the Time just flies when the Earth, the Sky, the Moon and the Sun are just right.
…
Date: 26th September, 2007