Mudh (3850 m) to Paldor (4050m)
The expenses for the trek:
1 guide = 300 Re per day
1 porter/cook = 200 Re per day
1 donkey = 200 Re per day * 3 = 600
total = 1100 Re per day.
6600 Re for six days.
The trek day! It was an usual chilly morning at Mudh. We had reached Mudh by late evening the previous day and had no idea about the scenic location of this place. Mudh is situated at the doorstep of a long winding valley which seems to end at a distant peak, we were told that our trek route was along this way.
The first day of the trek was considered to be relatively easy – from Mudh @ 3850m we had to reach Paldor @ 4050 m (14 km). The second day was considered to be the toughest – from Paldor we had to cross Bhabha pass @ 4900 m and climb down to a camping site near Kara @ 3800 m (15 km). The third day from Kara to Mulling @ 3100 m (13 km). fourth day, Mulling to Kafnu @ 2450 m (14 km). In four days, we were supposed to cover a distance of around 60 km, and in the process gain an elevation of 1000 m and lose about 2500 m.

I had not slept well the previous day – my sleep was filled with dreams of the hallucinatory variety, which later i realized was a result of the Tibetian medication i had been taking. The medication was acting in a way a common Paracetamol does (increasing body temperature) but had the additional baggage of delirious dreams. I decided to discontinue the medications. I was still not feeling 100 percent on the day of the trek, but, having come this far there would be no backing off. Though, I felt much better after the hot water bath – the only bath for the next four days.



Mudh
The trek party: Me, Gopal, Americans – Kyle, Korrina and Jake, with our guide/porter/cook – Sonam, aided with three donkeys, started the trek at 9 AM. Me and Gopal had offloaded about 3-4 kg of our backpacks content onto the donkeys. Still we ended up carrying around 8-9 kg on our backs. We (Me and Gopal) were a bit apprehensive about our fitness levels. Unlike the Americans, who had trekked a fair bit in their country before venturing to Himalayas, we were new to trekking. Our only worry was that we would fall behind, not withstanding the pace of the rest of the group. Thankfully, this never happened, the Himalayan conditions acted as a leveling factor, trek experiences didn't count, it was only the resoluteness of the mind which was tested, and everyone passed this test with flying colours.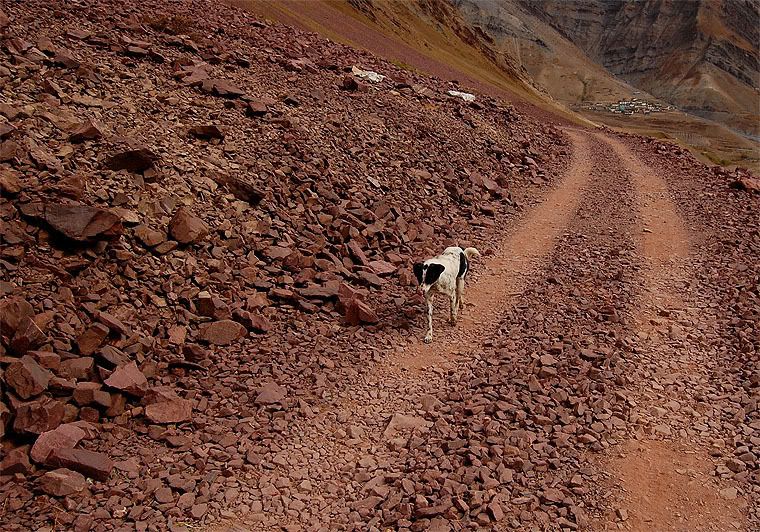 Trail Dog
We first saw this dog the previous night, whining – begging for food, outside the guest house. We were quite surprised to see this dog follow us on our trek. Sonam, our guide, told us that this dog followed him on his way back from Mulling on his previous trek and also told us that this dog will most likely follow us all the way! I name it the Trail dog as this dog would always stay close to the last two people of the trek party and also keep a watch for the last trailing person of the party. There were a few occasions when I found this dog wailing when the trailing person was lagging by a distance. Clever considerate Dog.
The route for the first 3 hours was quite easy; the backpack had still not started to get heavy. It was a very pleasant walk inhaling lung full of clean mountain air. It is then that I realized that I had clearly acclimatized to the altitude and I gained the confidence that my sickness will not trouble me during the course of the trek.
The load on the donkeys had to be often re-balanced. In the above photo the same is being done by Gopal and Sonam. Also, in the above photo we can see Mudh and a distinct Spring line running next to it, which is the villages source of water.

There was almost no sign of any vegetation, it was very much the 'dry Himalayan desert' that Spiti is known for. But, even here there were some signs of dry farm lands on steps cut out from the sloping mountain sides, close to the river.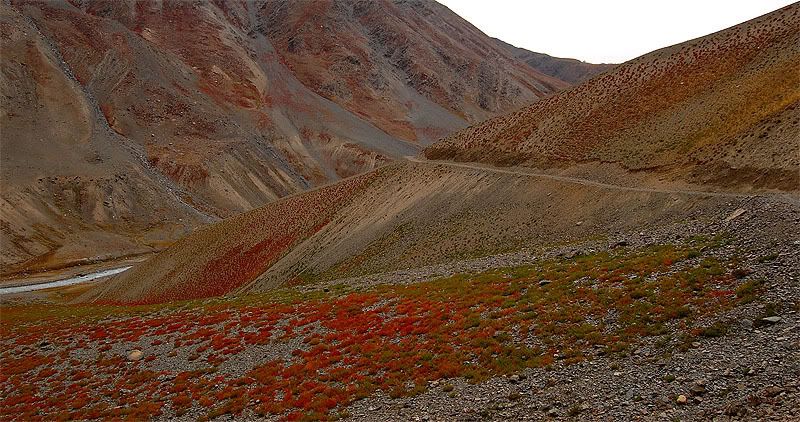 Shrubs growing on loose gravel.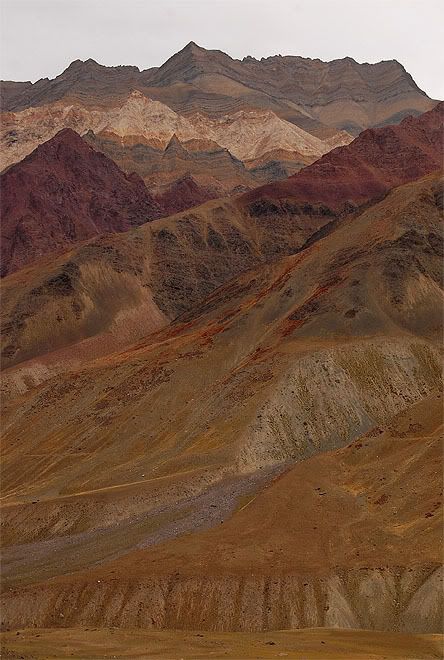 Clearly seen are the different layers of Sedimentary rocks which form this mountain range.



At around 1:30 PM we had to climb down to the river and cross it over a swing bridge. The main difficulty presented was to find a path to climb down. Our guide and his donkeys had already crossed the bridge and waiting for us. We eventually found a path each, suiting our respective risk taking capabilities. I found Kyle literally running down on one side – he reached first, Korrina took the shortest but the steepest route – she was all concentration climbing down, she reached second. I took almost the same route as Kyle and after some time as I found my footing and gained confidence climbed down briskly. Gopal came next. Jake who was lagging behind came last with the trail dog. We rested here for a few minutes and had something to eat. I had lost all appetite and only had some slices of bread and jam.

From here there was a steep ascent for about an hour. My first glimpse of fatigue.
View of the snow covered peaks as we ascend over the mountains shoulder.

After a walk of another one and half hours, we reached our camping site. We had to climb down again, losing almost all the elevation we had gained since the last two hours to reach our campsite. Our guide had already pitched his tent/kitchen. The camping site was located next to a river and a spring line joining the river, we were told that it was safe to drink from the spring line.

The first thing to do was pitch our three person tent. Ours was a summer time tent with a water proof fly and a thin plastic tarp kind of layer as the floor, from Lafuma. We had practiced pitching it only once while buying it – at the Wildcraft shop in Bangalore, and we had not used the pegs there. It took us about 30 minutes of struggle to finally get it right, and after making sure that the tent would not fly away with the next gust of wind, we headed towards our guides tent to help in cooking. We were really glad that Sonam, our guide, could cook for us. Cooking after such a hike was almost impossible. We had 'Dal' and 'Rice'. I remember savoring it. After washing our plates in the freezing water, we had nothing much to do for the day.

There were a German couple doing the same route. They had hired a guide, three porters and a Mule man with 5 Mules for the trek. Their guide, Manoj, was quite friendly and we spent some time after dinner sitting in their huge tent/kitchen sipping Rum (Old Monk) with hot water. Manoj was telling us that the next days route, over Bhabha pass, will be quite daunting, and that our Bangalore legs will find it hard. We knew and also beleived that 50% of the challenge was mental and the rest physical and that we had prepared for the trek, both mentally and physically. The next days trek over Bhabha pass almost proved us wrong!

We went to sleep in the background of the gentle murmur of the river hoping that our sleeping bags would take the freezing cold temperatures of the night.
Date: 24th September, 2007