Date: 12th November 2006
Place: Scotland
Rynee Mar B&B, Stirling: It was 08:00 and the Sun was lazier than us. The South Eastern sky had that 'fiery orange' colour, the colour of sunrise (my favourite colour). Pair of Factory chimneys, maybe of a Coal power plant, were puffing out smoke in the distance. Even birds, fooled by the late sunrise were starting to fly out of their nests.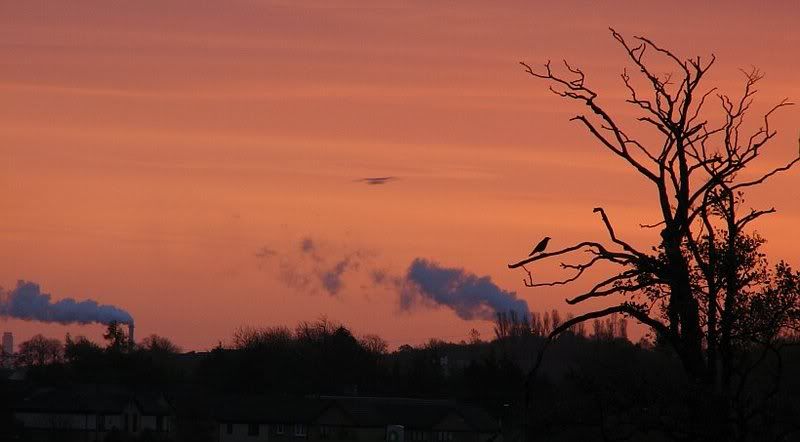 After having a multi-course breakfast! Cereals (Crunchy nuts), toast (with marmalade and butter) followed by Veg-sausages, we were ready to start our day.
Public path to the "Falls of Leny"
Didn't make it to this falls.
Lonely rider: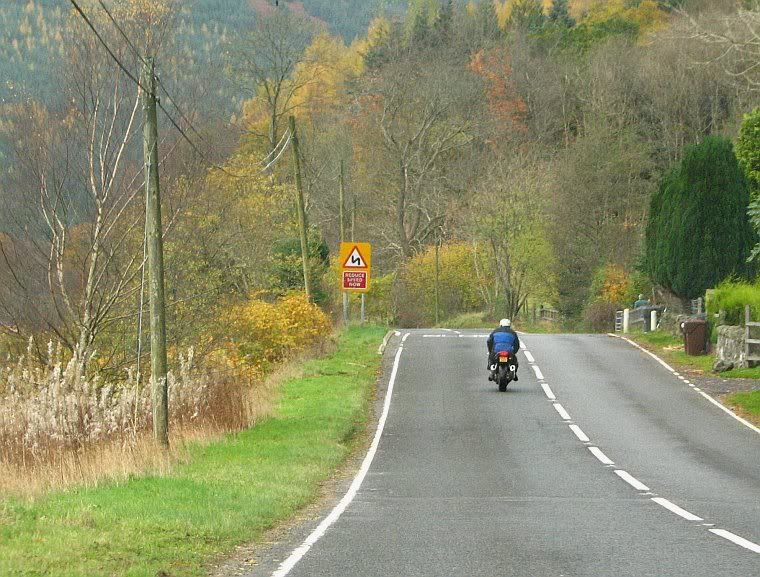 Nature was presenting itself in all shades of Green, Orange, Brown and Yellow – for the Oriental eyes, a festival of colours. We went past the first "Loch" (Scottish word for Lake) in our journey – Loch Lubnaig. Another hour of driving, we were at Glencoe.
Glencoe – Devils Staircase: Glen = A narrow secluded valley. This place is famous, or rather infamous for the massacre of MacDonald's by another clan, namely Campbell's. We were told that one can still feel the unfortunate event when they drive through this stretch of the valley.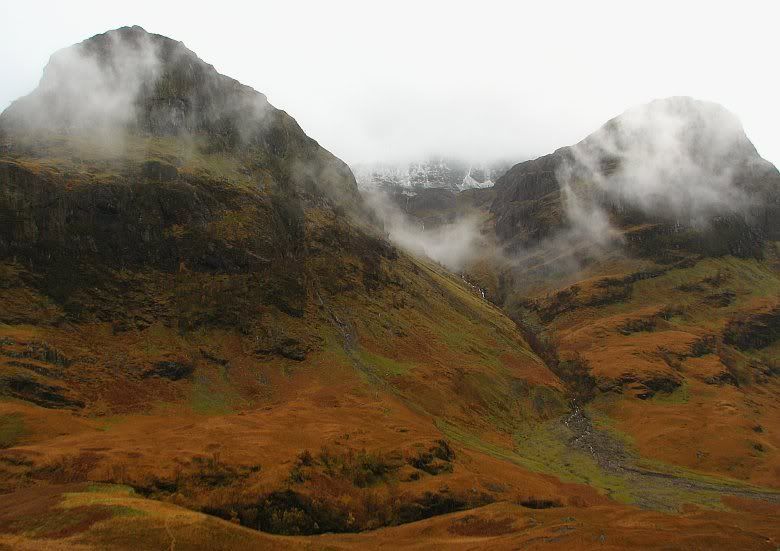 The snow covered peak, not clearly visible in the previous photo was what motivated for the next 45 minutes or so, the time taken to scale the shoulder of the first peak. We could only get a better view of the snow covered peak.
The peak was still more than 2 hours of climbing; we were not prepared for this kind of adventure nor was the sunlight with us. It was going to be dark in less than 2 hours, and we still had to have lunch.
The other side of the valley: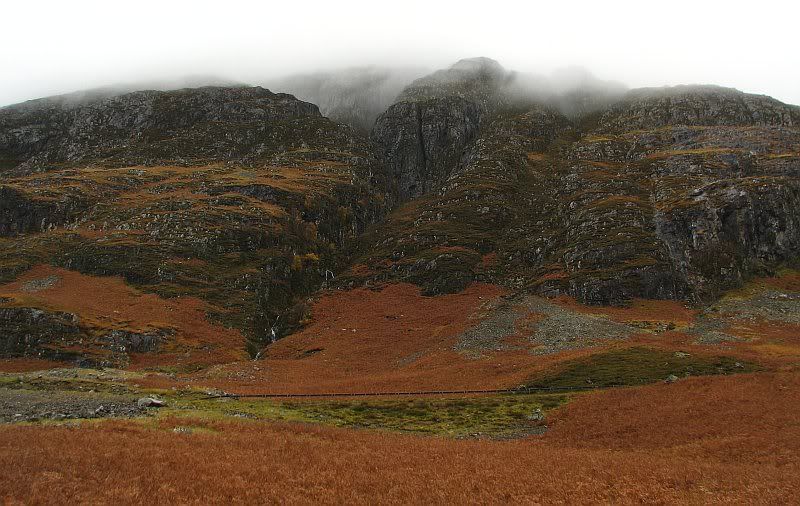 Fort William, Parking lot: Our rented car
It was 16:00 by the time we finished our lunch, too early to retire for the day; so we decided to travel as far as possible towards the "Isle of Skye" – our next destination. A quick query in our very low detailed road map told us that there were some vaguely familiar and vaguely heard of places close to Skye, like: Shiel Bridge, Inverinate, Dornie and Kyle of Lochalsh. It took us another one and half hour of driving in the lashing rains to reach these places shown on our map. Now, every time we came within the town limits everyone inside the car would search desperately for any kind of B&B (Bread and Breakfast) boards put up on roads. There were some B&B's outside the town limits far away from the main road, I guess nobody had the courage to even try this option. Anyway around 18:00 after passing through the third or fourth consecutive town without finding a B&B my driver friend got a bit concerned, especially as the driving had become a bit difficult because of the rain poring down, also as we were about to cross over into 'Isle of Skye' we were not sure of our chances of coming across a B&B on the Island were better. So we decided that we will not cross over into the Island that day and try to find some kind of B&B in the mainland of Scotland, as we did, in a place called 'Kyle of Lochalsh'. This town is right at the threshold before we cross onto the Isle of Skye. How beautiful this place was, we were only to find out the next morning, meanwhile we had the whole evening to waste away.
Glencoe Panorama: