Woke up by 8:30 AM; the previous night's uncomfortable stomach had worsened and was also feeling slightly feverish. It was my last day at Hampi and I had still not seen a lot of places – that's how big a sprawl Hampi is! Considering my condition I decided to cover these two – Elephant stable and Stepped tank, and head to Hospet, the rest of Hampi had to wait.
Tour guide trying his best to get music out of random pillars at Hampi – unsuccessfully of course
Checked out of the guest house by 09:00, took the motor boat across Tungabhadra River – the Virupaksha temple was as majestic as ever. Dropped the idea of going to Mango Tree for breakfast and went in search of a medical store. Finally when I located the only medical store in Hampi, found it closed. More enquiries later approached a shop which sells over the counter drugs, got a paracetamol and an eldoper. At the same store enquired for a palce which makes good idlis, was directed to a small hotel. Ate Idlis, took tablets, felt a little better.
I knew the way to the Elephant stables – In the hurry of my first day's cycle circuit I had missed this place; it was about 2-3 kms from Hampi Bazaar just next to the Zenana and behind Rama temple. For such short distances in Hampi it's difficult to find (cheap) private transport and I was in no mood to haggle, so I decided to walk.
Lotus Mahal
For the first km I held up well, but with the day turning hotter and my stomach turning worser, I regretted this decision. Dragged my feet to Elephant stables by 10:50 (50 minutes of walk); was feeling quite debilitated by then, so decided to sit under a tree for a while.
Sitting in the shelter of the tree I watched the 'hurried tourists' – tourists hurried by guides. As the tourists came from various regions I could listen to the history of these stables in upto 3 different languages from the multi-linguistic guides. A summary of the same – 'these stables were being used for few days only during the Dasara ceremonies for the Elephants, and the stables are built in a fusion of hindu muslim style of architecture'. Some who had a one day itinerary came, took a photo and left, and some others who had more time actually went to the stables, walked inside them. But still, I didn't see anyone spending more than 10 minutes here. The cool shadow of the tree and observing all this bustling tourist activity was helpful, I felt re-vitalized. Drank a tender coconut and mustered enough (mental) energy to walk further to the stepped tank – the last thing on my itinerary of Hampi. It was 11:30 by now.
Elephant stables
Another 25 mins of walk in the sweltering heat brought me to the complex which houses the 'Mahanavima Dibba' and the 'Stepped tank'. Outside the complex there was a push cart serving 'goli' masala soda – the soda bottle which makes a popping sound when the marble is pushed in. I had heard that goli soda was good for stomach problems; I took a chance as I thought that my stomachs state couldn't become worser. It tasted nice, had to wait and see if it brought any relief.
Mahanavami Dibba – is a three tired stone platform rising to a height of about 8 mts. It had been one of the most important structures used for royal ceremonies. Its built in granite and encased in sculptured schist stones. Most of the sculptures were either worn out or missing. Didn't expend any energy in climbing this structure.

Stepped Tank
Stepped tank – This is a fantastic symmetrical well which is connected by what appeared like a (now defunct) overhead acqua duct. For conservation purpose none are allowed beyond the first level of the steps. The Sun being at its zenith was casting delightful shadows on the stone cut steps.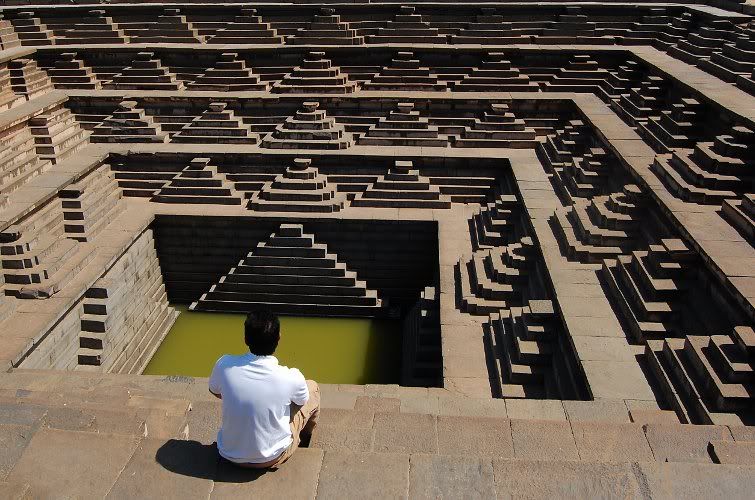 It was 12:20 by the time I got out of the complex. I just couldn't walk anymore. Got into an auto which was ferrying three tourists; I shared the auto driver's seat. Dropping the tourists at 'Queens Bath' the auto continued further and dropped me at Kamalapura bus stand. Within 5-10 minutes got the bus towards Hospet and reached the Hospet bus stand by 13:10. My bus to Hyderabad was to leave at 19:00; still 6 more hours! On the bus journey to Hospet had seen quite a few placards of 'Mallige Hotel', and it felt decent too – from the hoardings at least; having been spent 2.5 gruelling days exploring Hampi my body longed luxury. Mallige Hotel was walkable distance from the bus stand and was located next to a theare screening a Kannada film 'Circus'. There was a show at 13:30. A quick lunch of curd rice and lassi and after emptying my bowels at the hotels toilet reached the theatre on time for the show.
The film starring Ganesh was fast paced and never made me feel bored. It was a decent watch and surprisingly in the end there is a reference to 'chaos theory' – go watch to know what it is. The 2 hour 30 minute break rejuvenated me. As I headed out of the theatre I felt very refreshed, and I could very distinctly notice the spring in my feet. I was quite astonished at the turn of events myself.
As it was still 4:10 PM I wanted to explore Hospet; found out from some fellow film watchers that the Tungabhadra dam was abuot 15-20 minutes by road. Took a shared auto which costed 10 Re.
Was at the Dam entrance by 17:00, and again, even here I met Roshan (the same guy whom I met when I had arrived at Hampi) arriving at the dam in an auto. He and his friends had a train to Bangalore at 22:00 – unlike me they had lots of time on their hands.Few minutes of conversation later I took their leave. The Dam was about 1.5 km walk from the entrance. The catchment area of this dam was by far the biggest I had seen. It was like a ocean without the waves.
Tungabhadra Dam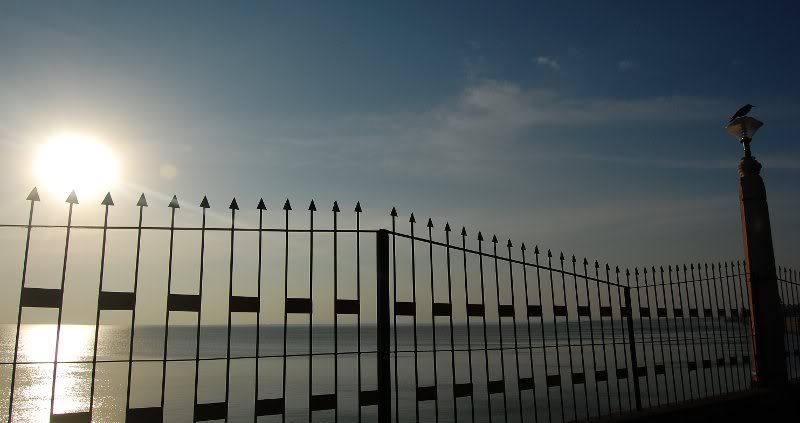 Quite a few people visit this place in the evenings to catch the sunset. I bought a chilled milk can sat on a bench viewing the soothing expanse of water. In the next bench was seated a boy 12-15 years of age; he had been drinking some juice and staring at the expanse too. But there was something about this boy which was peculiar – kids that age don't have the kind of expression or calmness he had. It seemed as though he was lost or just didn't care about something. Anyway, he went somewhere and was not to be seen after that. I spent some time photographing silhouettes and it was time for me to leave.


Started walking back from the dam by 17:50 rented an auto and was at the bus stand by 18:30, well before time.
As I was seated at the bus stand doing nothing the same weighing machine which most people my age would surely remember having used in their younger days stood there in the centre. The owner of this machine had just then took the collection and re-filled the little cardboard cards used for recording the weight. I used it, oddly the charge was same – 1 Re only. The machine spit out a small cardboard bit – on one side was the dot matrix photograph of Ajay Devgan on the other side was punched in my weight – 64.5 Kgs with some wise words – "A big victory is nearing you. Struggle hard to achieve it."
Date: 26th Jan 2009
Place: Hampi, Bellary, Karnataka