I have written this article in a monologue by jotting down my thoughts as and when they came to me during my Hampi travel.
Its 8:00 PM, will I be late hmm… should be in time for the 9:30 PM bus. Bless the auto driver for running the meter without being asked. Don't even have an itinerary of things to do; all I know is that I want to go. I hope I won't get bored or feel lonely in Hampi. Good, in Mahatma Gandhi Bus Stand by 9:00, meter reads 112/- Re; 6 Re tip to driver and 2 Re to beggar. When was the last time I gave alms; I'm in a good mood.
Seated statue of Mahatma Gandhi (in the hallway of the bus stand); only the second statue (I'm seeing) in which he is seated. Eyes closed, face calm and that slight smile – he is meditating. Yeah, he was something! I cant/shouldn't judge him or his actions.
Bus starting at 9:50 PM. That smell; neighbor is drunk; anyway he looks decent; hope he doesn't snore. Booked window seat on internet but the seat numbering inside bus is flipped. Good only, the window seat side AC ducts have no valve. Play music on random – why don't I like a particular genre of music like others. Brrr…. Let me use the cotton towel as a blanket, should have got my jacket – left it back to cut down on unnecessary baggage.
How can people be unaware of the Vijayanagara Empire, that too being south Indians! If not for their near absolute control of South India from 1336 – 1565 A.D. we would have had to see a much more devastated version of the present day south India. From what I have read, the small Hindu kingdoms like the Kakatiya dynasty of Warangal, the Pandya Kingdom of Madurai were being repeatedly invaded by the Muslim kingdoms of the north. With the defeat of the Hoysala kingdom, the Hoysala Empire merged into the growing Vijayanagara Empire. For two decades this empire ruled/protected most of south India. Two decades is a long time, it's as long as the British ruled us. Still there is so little about this Empire in our History text books! There is a quote that goes by – "History is written by the victor" – I like to append – "and filtered by the political will!"
Extent of Vijayanagara Empire, 1520 AD
The bus stops for dinner at 12:00 A.M. Turn the mp3 player off; anyway not listening to anything; mind's just wandering on different topics. Have an entire chikki (toffee) bar in pocket. Such a pleasure to eat chikki while standing on the roadside watching vehicles zoom-by! 4 AM, half asleep half awake, the kind of state characteristic while traveling, I'm sure will sleep well in the wee hours of morning.
Reach Hospet by 8:20 AM. Hampi platform is at corner. The bus timings are printed on a board and written in chalk on another, they don't match, no wonder. Auto driver offers a drop to Hampi for 50 Re. hmm…50 Re for 13kms, not bad. Climb into auto after making sure that I'll have it for myself all the way till Hampi. The auto driver has 700 Re business (auto-rickshaw day tour) waiting in Hampi, so instead of reaching there empty he takes me. Ok. No foreigner renting auto – in their bid to experience the real India they prefer bus travel over auto, besides they follow the Lonely Planet guide like a Bible when they travel. Well. Also maybe they have been harassed by the auto drivers demanding un-reasonable amounts.
The day is clear, not too hot, pleasant climate. As Hampi nears, quite a drastic change in terrain – mounds of granite rock smoothened by forces of nature. Yes, definitely it's a place to spend the next three days.
My auto-rickshaw passes one more auto, wonder of wonders, its Roshan in that other auto. He sees me, his face glows in recognition too. He is with other friends. Phone numbers get exchanged. There is no Airtel signal. I want to stay on the other side of Tungabhadra River; he wants to stay near to Hampi bazaar. I don't think I will meet him again in Hampi.
The road north of Virupaksha temple leads to the river crossing. Kids ask to be photographed in return for a look at the photo.
Coaxed the kids for this pose.
No place to sit on motor boat but still a bi-cycle accompanying us quite easily balanced on the narrow platform on one side. 10 Re for the boat ride – Costly; let me bargain. Yeah, it's 5 re for Indian tourists and maybe even lesser for the natives.
Virupaksha temple complex looks glorious from across the river.
Paddy field on one side hotels & restaurants on the other, and its less busy – good choice to stay on this side of river. At Raju's guesthouse have to wait till 11:00 for a room to get vacant. It has an adjoining open terrace café, less of a café and more of a lounge – low tables and mattresses. Its 10:30, I can wait, I like this place. Nothing's like a mug of coffee – however badly prepared – after a long journey. A middle aged self proclaimed South American writer woman going blah blah with a Korean teenager. It's more of the long staying tourists who prefer this side of the river.
Get into room by 11:20. @ 300 Re per day, room is ok, double bed, attached bathroom with western toilets and shower, no hot water. Back to café for brunch by 12:00 – French toast and orange juice. Waiting for breakfast make itinerary for today – take the road leading south of Hampi bazaar all the way till Kamalapura, from there head North-east towards Anegundi and take the west ward road back to Hampi bazaar; if not visit all attractions will have a glimpse – have 2 more days to visit them again. This map is not to scale; don't know how many kilometers this circuit will turn out to be.
Cross river at 12:10; befriended the fare collector by now; free ride.
Virupaksha temple
It was a straightforward decision to start my Hampi experience from this temple, which incidentally is the only temple which has miraculously escaped unscathed by the total destruction wave inflicted by the alliance of Deccan Sultanates in 1565, after their victory over Vijayanagar Empire in the 'Battle of Talikota'.
Pillars of Virupaksha temple
The 10 leveled 'gopura' with a single 'kalasam' is definitely the tallest I have seen till date. The interiors are clean and except for the corner at which people are queuing up for the blessings from the resident elephant, it's quite and peaceful. The pillars have a unique style of carving. Though the sun is at his zenith and the lighting unsuitable for outdoor photography (which I have believed till date), it presents a different opportunity to play with light. Yeah, playing with natural light, that is what I like most about outdoor landscape photography.
After the customary visit to the inner sanctum I come across a signboard announcing 'Inverted Virupaksha gopura' at the rear portion of the complex. A herd of people are coming out, must be something worthwhile. Heh, it's only a dark room with a small crack letting in light from the direction of the gopura – a primitive pin-hole camera or 'Camera Obscura'! Its just a shadow of the gopura inverted, nothing much. Out of the temple by 13:00.
The cycle shop owner is not willing to rent out the cycle without submitting some govt. issued I.D. card. I'm ok to part with my PAN card, but should make sure that he thinks that it is big deal from my end. Anyway, the cycle is in very good condition. He says that I'm its second owner.
Head out of main gate leading south of Hampi bazaar. A steep incline, a reality check on my fitness… at the end thighs feel dead, alight the cycle. Hemakuta temples on the hill top.
Virupaksha temple from Hemakuta hill
The area looks desolate, tourists here and there, some immersed in their books seated in the shade and others being a bit adventurous by climbing the multi-storied platforms. Should try making in time for sunset to this place.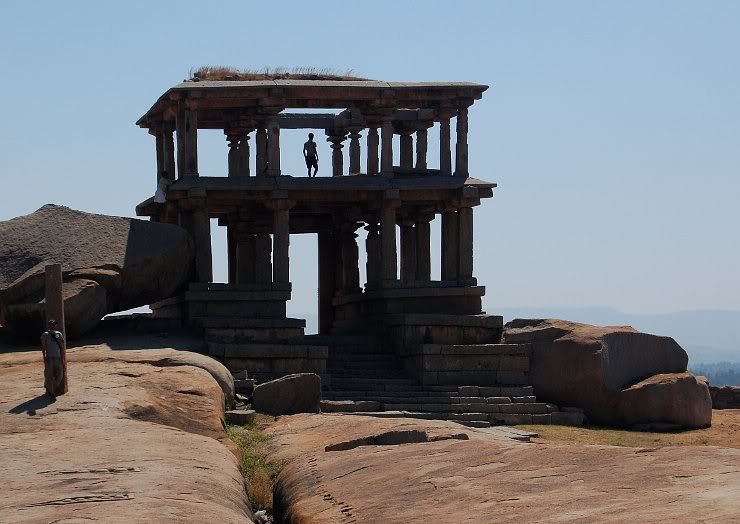 Sasivekalu Ganesha
This Ganesha is one of the biggest I have seen, and what an ironic name, 'Sasivekalu Ganesha' (Sasivekalu = a kind of food grain). The first vandalized idol for today. Maybe half destroyed by the invaders and half by tourists. I appreciate the barricade placed around it. To the eye the idol still seems to be in good shape; I wonder about the parameters that are taken into consideration before the idol was declared as un-holy.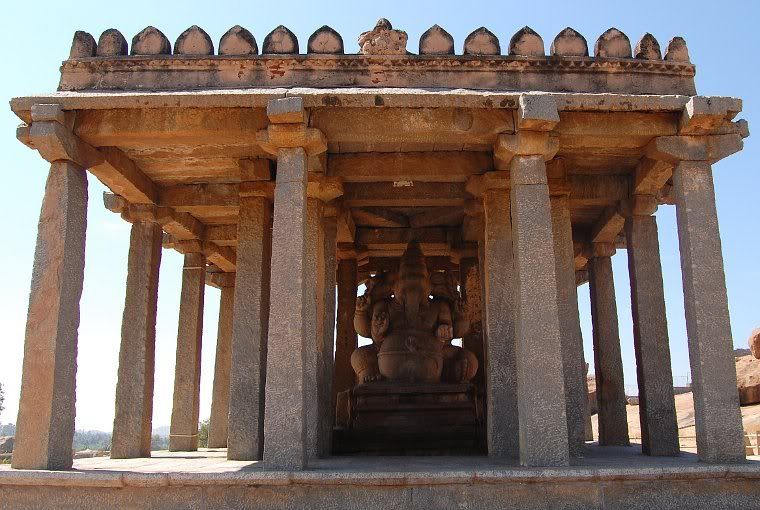 Krishna Temple
The gopura looks half demolished, or rather half re-constructed.
Only one structure inside with an empty inner sanctum, another soul less temple! Indian tourists rushing in and out lead by guides who talk by the dozen; at least foreigners spend some time appreciating the art on stone.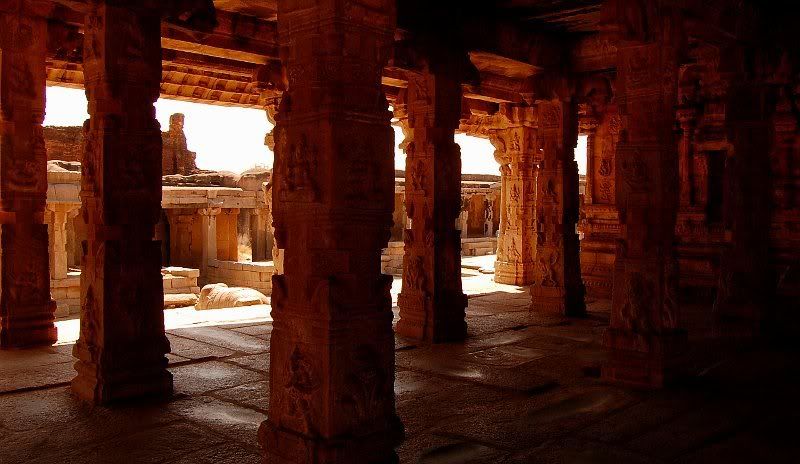 Overhear a guide mentioning something about Shivram Karanth (my ears sharpen) – "the gopura was being rebuilt/renovated by the Archaeological Survey of India and Shivram Karanth brought a stay order from the government on the grounds that ASI was spoiling the heritage structures in the name of renovation", bless his soul!
Yoga Narashimha statue
The Lion faced Vishnu. One of the statues I'm looking forward to visit. Oh! Didn't expect it to be enclosed within walls or barricaded. It's big and majestic and also the most vandalized – both hands cut, one leg below ankle cut, half bow missing and also the statue of goddess 'Lakshmi' supposedly seated on his lap missing. Again overhear guide. "though the eyes of Narasimha are seen to be bulging out giving him an angry look, this is not his 'Ugra avataara', this can be called as 'Yoga Narasihma' (as seated in yoga posture) or 'Lakshmi Narasimha' (Lakshmi seated on lap). Use 55-200mm lens to get a flatter perspective, and to get a better close-up of the statue's higher portions which apparently looks out of reach of the vandal.
Get back to cycle; its 15:00; hungry, but cant waste time by getting back to the city for lunch. Drink two tender coconuts, one with plenty of water, another with less water and more meat (coconut jelly). Mm… the second coconut water was sweater. Eat coconut jelly. That should do now for that hunger.
The next landmark on map is Underground temple. 2-3 kms later.
Underground temple
Another Shiva lingam temple. Whole temple structure is under 1 feet of water. The water is cool and looks clear. Wonder when it last rained, nah, this should be plain old standing water. Well, I don't care. Near the sanctum water level deepens to 2 ft. Weird temple, the sanctum is usually raised from the rest of the temple level, but here, it's sloping down. There is a Kannada speaking couple inside, the guy's involved in photography (Nikon D50). Have no inclination to speak beyond a few words. The water feels very nice. No photography can be done at such poor light. The inner sanctum houses a small (seemingly deformed) Shiva linga. Add another soul-less temple to the list.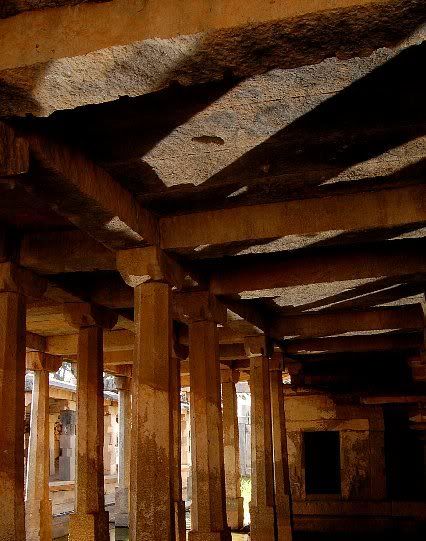 Hazara Rama temple
Rear wall – Top to Bottom: women harvesting, women dancing, men in arms (bow and arrow), war horses being led, War elephants.
The Vijayanagara Empire's emphasis on a balanced society is quite clear from this depiction. Food for sufficiency, entertainment to keep the population happy (surprised at the high status given to this, really!), men in arms to defend state, horses to win wars, elephants to defend state. Vijayanagara Empire was dependent on the Arabian Peninsula for importing war horses without which they had no chance against the Deccan sultanate, and it was food grains which were exported in return. It was an agricultural economy.
The gopura of this temple and roof carvings of main structure inside seems to be done using some kind of cement or some other archaic building material and can be seen in half crumbling condition. Hazara Rama has got its name from the numerous depictions of scenes and characters from the epic Ramayana on stone. Overhear guide – "this temple is known for the four black stone pillars, the stones are not from any place nearby". The tourists he is addressing are half-interested and half tired, maybe they are wondering how many more of these temples. I can hear one Kannada tourist, "even a week is not enough to visit all places in Hampi, there is so much to see!" – This is one of the oft used phrases by anyone who has/is visited/visiting Hampi, but ironically I can see none who can spend 7 days at the ruins other than foreigners.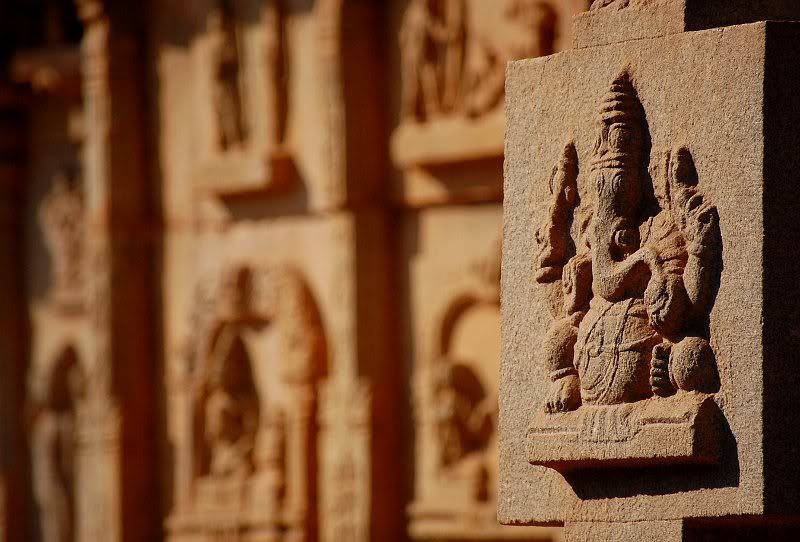 Nothing inside the sanctum – Soulless.
Its 16:30, trace back path towards Underground temple and head southwards towards Kamalapura. Now, I'm more interested in completing the circuit of Hampi than visiting any more ruins. At kamalaupra take left, head North-East towards Anegundi.
Bhima's gate and Jain temple
About a km from Kamalapura – Bheema's gate is a rectangular arch; the temple is simple and as usual soulless.
There are no more attractions dotted on my map along the route, and well, I'm running out of time and energy (both physical and perceptive). Peaceful ride on cycle till I encounter barricade by police! Ok, it's the road leading to Anegundi Bridge – the ill-fated bridge which snapped during construction taking with it about 20 workers to the bottom of the river. No vehicles allowed beyond this point but there are plenty who are parking vehicle and taking a walk to view the bridge. Tragedy sells like anything in this country!
I can take the mud road leading to Vittala temple, from there only a foot road back to Hampi, cycle will have to be carried at places, so I'm told from a local. From the looks of the entrance of Vittala temple, this seems to be the most prominent of all the temples. Sheltered passage-way for 500 m leading to the temple complex. The place is thronging with tourists, will visit this temple the first thing tomorrow morning.
After crossing Vittala temple, the path meets the Tungabhadra river bank. Across the bank rising above all other mountains is Anjaneya temple, with a white colored stairway leading to the peak, very inviting. Too tired and hungry to use camera. Time's 17:20. Sugar cane juice – help the juice-wallah to spin wheel… very tasty… half a cup more. Refreshed. Continue towards Hampi. The path leading through boulders is mostly cyclable but for a few places where the cycle has to be carried for a little distance. For the most part the path goes next to the river.
Reach Hampi bazaar before 18:00. Sun is yet to set. Buy bananas and water. Climb Hemakuta hill. A little late, sun has set before reaching the viewpoint. The evening is cool. Sit at the place for a few minutes. Eat Banana. Butt hurts from cycling, no more cycling for me! Wash face, the water tastes salty from the layers of sweat.
Start climbing down. Some Bangalore techies using their D-SLR's with telescopic lens in fading light… zzz. Oh damn! The boat crossing might have a time limit its 18:50 and almost completely dark. Some local tells me the last boat is at 18:00 and the only other way to reach the other side after that is to go all the way to Talarikatta and then from there to Anegundi and by road to this point (about 30-40 kms), which is hardly a km from where I stand. Want to check it out for myself. Hurray, I hear the sound of the boat, someone tells me it's the last one. Run, shout, no use. The boat leaves me; I'm joined by a group of foreigners who seem to have no idea about the time limit. Can hear the boat reach the other side, engine is turned off. I shout in kannada whether there will be another boat. There is a reply, yes. After many anxious minutes, there is a 'teppa' (Indian coracle) slowly making our way. The lone foreign occupant hands over 50 Re to the kid driver. It's the same kid who I'm familiar with from my previous boat rides. Demands 50 Re per head; try bargaining with no luck. For the white's, their first coracle ride – could easily convince them that it's safe as long as the weight is evenly distributed in the boat.
Reach room by 19:30. Cold water shower. Wash undergarments. Head out for dinner by 20:00.
Some restaurant by name laughing Buddha. Nice ambience. Join a table occupied by an elderly foreigner lost in his book. Stretch full length on mattress. Order Rotis and some chicken curry and vodka. Girl sitting in next table asks for a lighter. Have a brief conversations with her after which both have no inclination to talk more. Food is tasty. Waiter brings 150 ml bottle (white mischief), was thinking of 60ml, well, it should be ok. Just as I finish dinner joined by a group of 3 foreigners, these are more friendly, particularly the German. The German, Bian, says that he met the other two(Israeli girl and Italian guy) at Cochin and is traveling with them since then. He has 6 month tourist visa and is into his 2 month in India. He is 21 yrs of age taking a break after college before deciding on his future. Wants to see the world. Conversation starting from garbage in India to World war to European Union to diversity of Indian states to many other things. He has the right attitude to know more and experience the world.
It's a shame couldn't finish the last 30 ml, ran out of sprite. Can walk quite easily back to room. It's 22:20. no power. get mosquito coil. sleep.
Date: 23rd and 24th Jan 2009

Place: Hampi, Bellary, Karnataka