Date: 22 June 2008
Place: Hyderabad
Recently I shifted to Hyderabad after staying in Bangalore for 5 years; hence, naturally, this blogspace will host more photos from this region. 😉
Birla Mandir:
The temple is located on a hillock called Kala Pahad adjacent to Hussain sagar lake. This temple is also called 'God's Marble Home', true to its name it's covered with white marble right from the stairway to the main sanctum, housing a 11 feet Lord Venkateshwara statue of black granite.


The temple complex has a four tired 'Rajagopura' entrance, built in the south Indian style, and the main sanctum is in Dilwara style gallery (Rajasthani style). Being located right next to Hussain sagar, the Buddha statue in Hussain sagar and the beautiful Necklace road can be seen from the top of this hillock.
Buddha statue:
This 17 metre-tall, monolithic statue was installed on December 1, 1992. Before its installation this statue had slipped into the lake while it was being ferried aboard a barge, costing some people their lives. Though installed in 1992 it was only in 2006 this statue was consecrated, by Dalai Lama.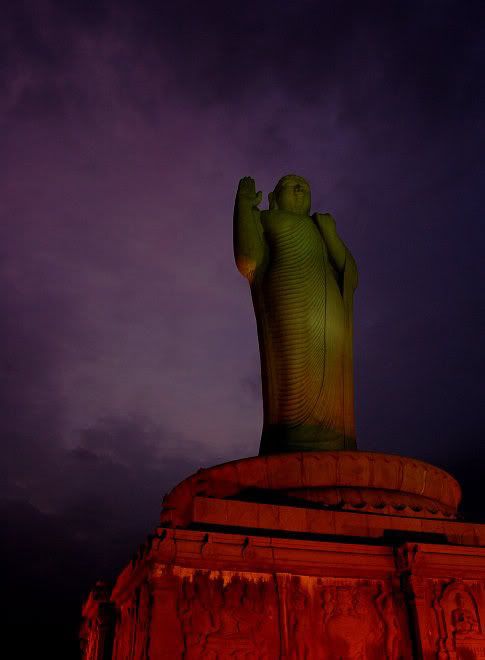 Mode = Aperture priority, Focal Length = 18mm, F-Number = F/10, Exposure Time = 1/30 sec, ISO speed = 800, White Balance = Auto, Metering mode = Pattern, Exposure Compensation = -1.7
The sky is like this only for a few minutes everyday, just after the sun sets; the best time for outdoor photography!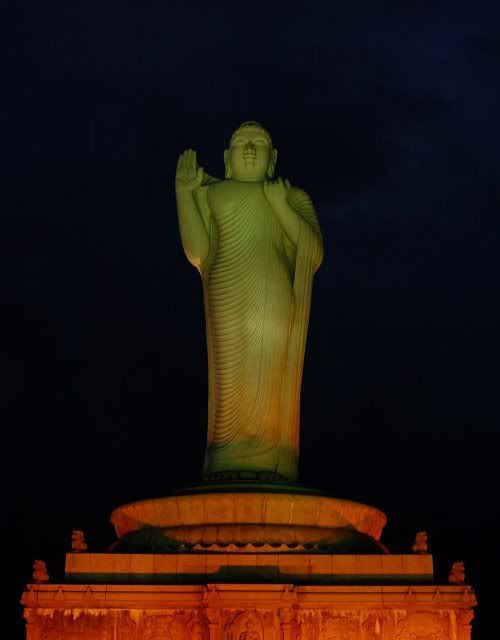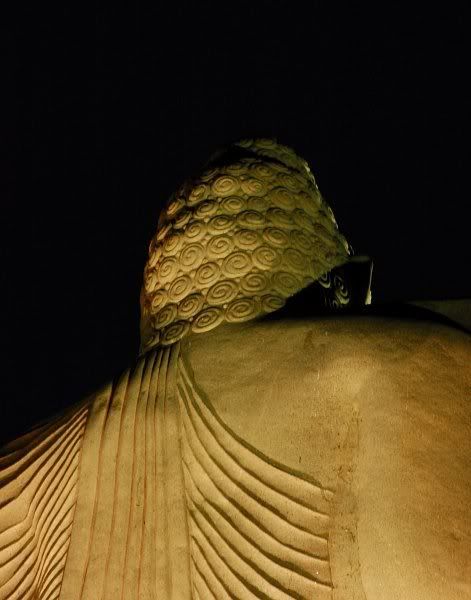 Mode = Aperture priority, Focal Length = 120mm, F-Number = F/9, Exposure Time = 1/5 sec, ISO speed = 800, White Balance = Auto, Metering mode = Pattern, Exposure Compensation = -2