I had an immense desire to travel to the Himalayas, and to experience it first hand. What better way to do this other than trekking in the Himalayas!
Though the trip to Himachal Pradesh was decided 6 months in advance (by Myself and Gopal) we had not planned a detailed itinerary until the last few days. Our preparation for the trek, we felt, was not adequate, but, we had the confidence that after-all we would be still in India, and that we would find a way.
Deciding the Trek route: We mostly referred the Lonely Planet guide on the Himalayan Trek routes. The book had listed some of the popular Himalayan Trek routes and graded them into three categories – Easy, Moderate and Difficult. We were too proud to do an Easy trek route and not foolish enough to choose a Difficult trek; as this was going to be our first trekking experience, we settled for a trek route categorized as moderate. The Spiti to Kinnaur trek over the Bhabha pass was the natural choice among the other routes.
Our plan was to start from Shimla and reach the Trail head – Sagnam in Spiti, trek from Sagnam to Kafnu in Kinnaur (5 days) and in the process make a circuit through Himachal Pradesh: Shimla-Kullu-Manali-Spiti-Kinnaur-Shimla.
We took a flight from Bangalore to Delhi (16th Sept), stayed at a friends place in Delhi and took the next nights train from Delhi to Kalka. We reached Kalka @ 5AM 18th Sept and took the Narrow gauge train to Shimla. This route we had chosen as it was famous for its beautiful sights, which I regret to announce are not worth the 7 hour crawl from Kalka to Shimla. But the fact remains that this route is very popular among honeymooners.


We reached Shimla by 1 PM and as soon as we set foot on the platform we were flooded with touts. My resolve was not to encourage any of them, but we ended up speaking with with one tout nevertheless. He gave us some trivia about our trek route, and according to him – the route was easy and one would not get lost in the trail without a guide/porter, but he also added that we might find it difficult (he gave no reasons why). One useful thing he told us was that we could find guides/porters in Kaza more easily than in Manali (which according to Lonely planet guide was where one is supposed to look for guides/porters). He also made us climb a very steep road in Shimla to reach the Hotel (of his choice), and I'm sure he was smiling inside looking at us lugging the heavy backpacks. This was also a heavy reminder of the weight of our backpacks (15 kg), plus we were carrying our own separate camera bags: I was carrying a Nikon D40 fitted with 18-55mm lens and Gopal was carrying a Nikon Film-SLR with 28-80mm lens and a Nikon D40 with 70-300mm lens. We were either expecting to get used lugging around such weights before we actually start the trek or hoping that we find porter/porters who would be willing to offload a good part of our backpacks.
Our first priority was to get to Manali as soon as possible. We booked tickets in a private bus (for the next day morning) as the govt buses were all booked. Had lunch and headed off to Jakhu Temple, which is 3 kms from Shimla town center. Jakhu Temple is dedicated to 'Lord Hanuman', and suitably we see a lot many Monkeys on the way to the temple. The monkeys much bigger than their cousins down south seemed (thankfully!) more docile than their south Indian counterparts. Jakhu temple is located on a nearby hill and we had read in the lonely planet guide that we could get a good view of Shimla from the viewpoint. All we could see was this: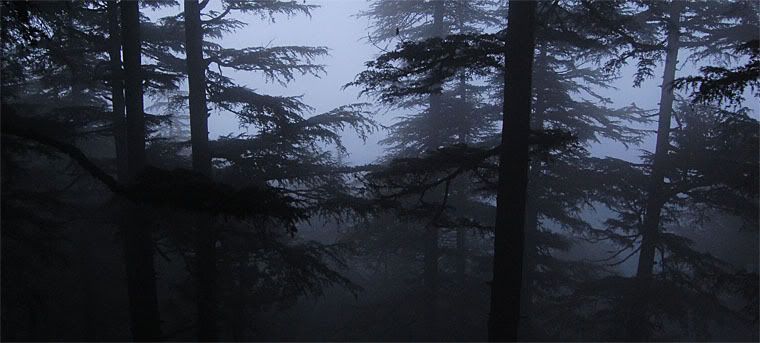 It was very misty.

The diffused light as a result of the mist was a bit eerie and could be used to create some artistic shots near the Shimla city center.

Mahatma Gandhi's statue.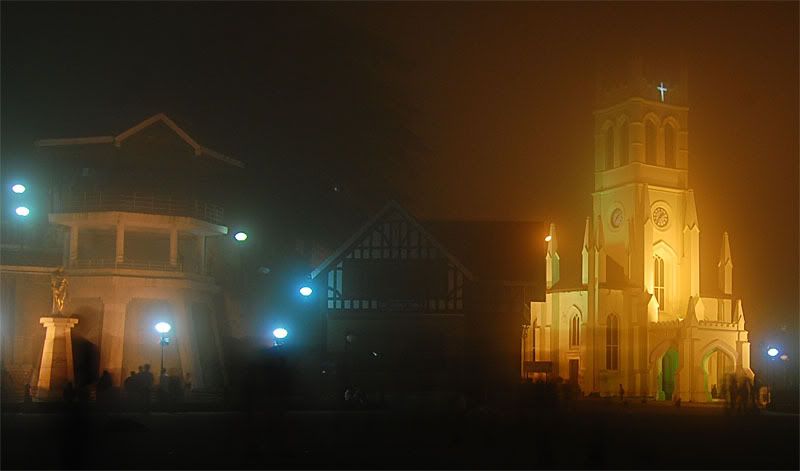 Shimla Church on the right and Mahatma Gandhi statue on the left
When we returned to the city center, the same tourist operator who had earlier sold us the bus tickets to Manali gave us an irresistible package: Drop to Manali + sights along the way + 2 nights stay in Manali + trip to Rohtang Pass, all for a sum of 1800 Re from the two of us. He seemed desperate to fill the last two seats of the Tata Sumo which was leaving for Manali the next day morning. We took it.
The next day (20th Sept) at 9:30 AM we found ourselves occupying the front seat of the Tata Sumo, next to the driver. Our co-passengers had arrived in time and we started at the scheduled time. The middle seat was occupied by two couples – Punjabi and UP, the rear seat by a Bengali couple and their 5-7 year old son. The route took us via Mandi and Kullu. We stopped only at two places on the way – At a picnic spot next to a river and at a temple dedicated to 'Vaishno Devi' with an interesting Pagoda style architecture of three story's, where each story depicted the 'Devi' in a different 'avataar'. We were in Manali by around 8 PM. The hotel was 2 km away from the city center but very close to Hadimba temple. As we were eating the tasty 'roti' and 'Sabjis – aloo mattar and dal' which we had ordered through room service, we witnessed Yuvraj's six sixer's against England in the T-20 match, not very interested with the outcome of the match we slept early. The next days plan was to visit Rohtang Pass (4000 m).
The following day (21st Sept) we got up a bit earlier than our co-passengers to visit Hadimba temple and later book tickets for Kaza in the only bus which leaves every day at 5 AM from Manali.
Hadimba temple: This is a Pagoda type wooden temple built in 1553 AD and dedicated to Goddess Hadimba (First wife of Bheema from Mahabharatha). No idol is enshrined and only a foot-print on a stone is kept within the temple – I'm not sure of the origins of this foot-print, it might be the foot-print of Goddess Durga, as I read somewhere.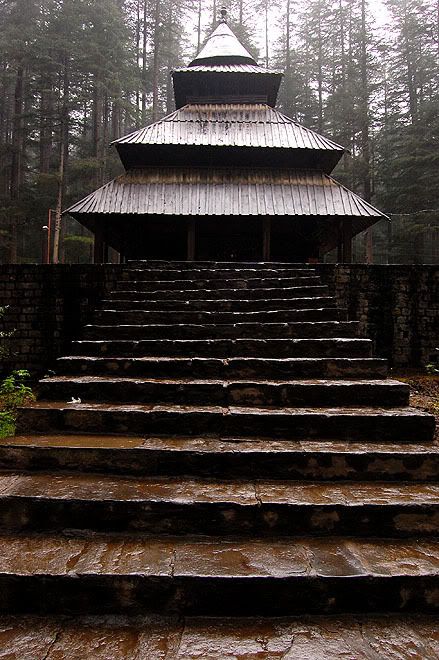 Hadimba temple
Rohtang Pass:
Though this pass is just 50-60 kms from Manali it takes 2-3 hours to cover the distance. On the way to Rohtang Pass our Tata Sumo stopped at a Fur renting shop where we could rent-out Thick Fur coats (coming down to the knee) and rubber boots to walk in the snow. All our co-passengers except me and Gopal rented Fur coats and Boots. I had just a sweatshirt, but did not rent any as I did not expect the temperature to be drastically different than what it was already, for a gain in altitude of 1000 meters.

This might be a small Hydro-electric power generator – a guess, because of the fact that it is letting out huge amounts of water out of a pipe and there are power lines in its vicinity. Photo taken en-route to Rohtang Pass.

A bend in the road and a small brook crossing the road and passing under the snow arch.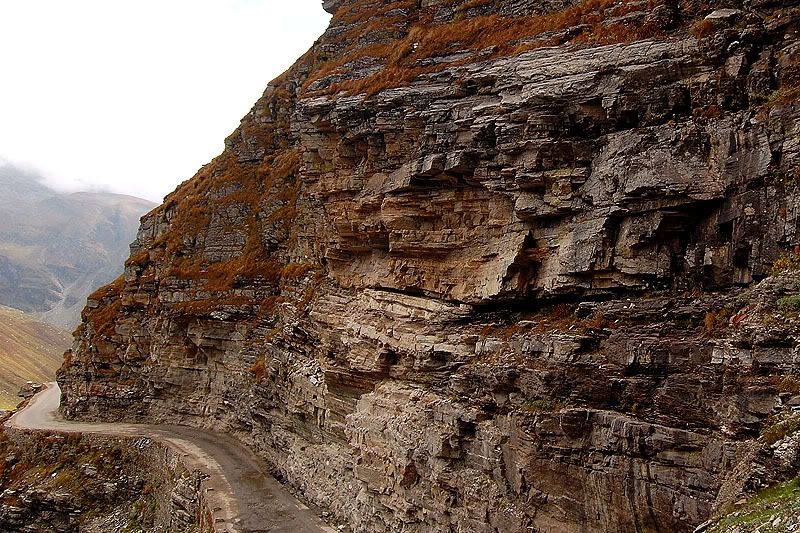 We reached Rohtang Pass at around 2 PM. It was a very touristy place and there were many people who had reached before us. From here one could climb to an higher elevation and one was promised snow, at least that was what the guides were advertising. There were horses available for hire. Most of the people were trusting the Horses rather than their Legs. We met a couple of people returning from the climb by foot, a student (I think Tamilian), advised us to not attempt the climb without a Horse, and that it is very tiring – he was wearing a thick fur coat on him and was sweating profusely. The forewarning motivated us even more as we could consider it as a part of our training before the actual trek begun if it was really as difficult as he told it was.
Few of the sights during our climb at Rohtang pass.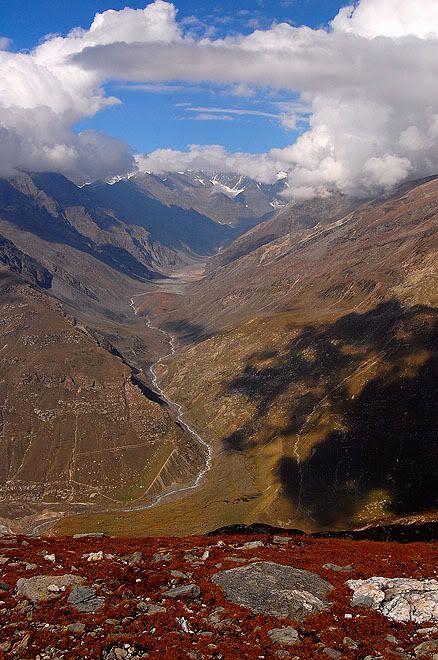 We made it till the height at which the horses were being rested and people were continuing the rest of the distance by foot.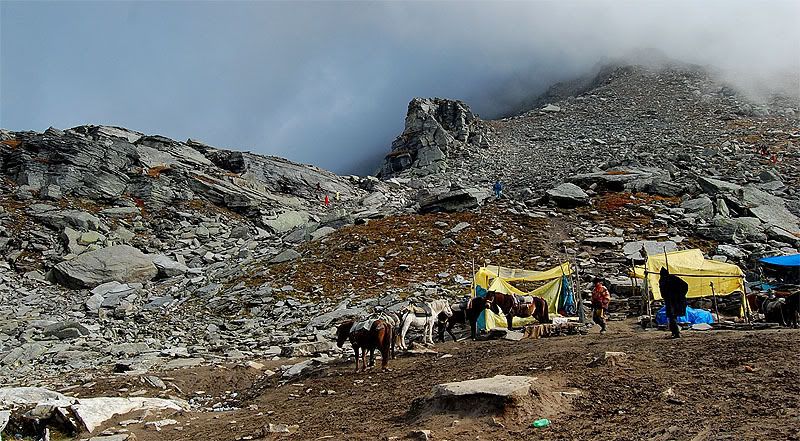 We could have easily continued but for the shortage of time, it was already 3:45 PM and we did not want our co-passengers to wait for us.
The climb down was relatively easy. We encountered more people sitting on horseback, some wrapped head to toe in what looked like ski suits and exclaiming looking at us: 'you guys really didn't feel cold in those clothes?!'
Our co-passengers as we had expected were not waiting for us but having a nice time – taking a boat ride walking around the scenic place.
We were back in Manali by 7-8 PM. The next day we took the 5 AM bus to Kaza. The bus was filled with Foreign tourists and Locals traveling to Kaza, no tourists of Indian origin. Honeymooners rarely venture north of Manali, and as we later discovered Spiti has nothing touristy about it, its mainly trekkers and back-packers who mainly visit these places.
The journey was a 12 hour back breaking, stomach churning ordeal. If not for the excellent sights on offer I'm sure it would have been worser.

The bus we traveled in.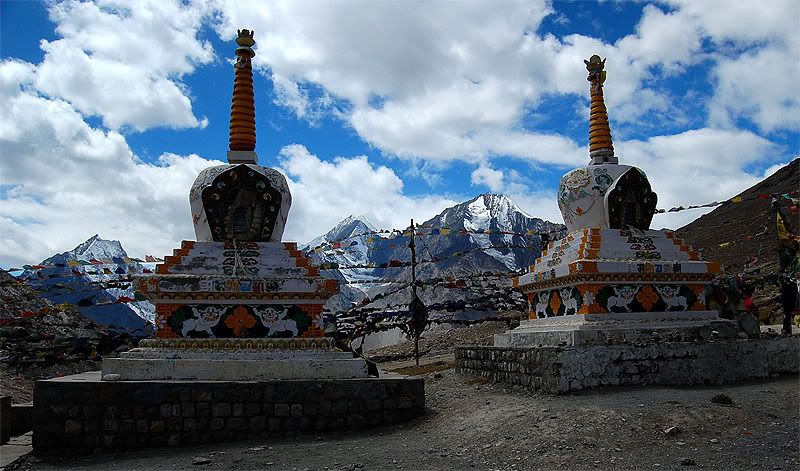 Kunzum-la pass.