Paldor (4050m) to Kara (4100m) – over Bhabha Pass (4900m)
This was the longest and toughest day of the trek. Starting from the first days camp @4050m we had to cross the Bhabha Pass @4900m and from there we had to climb down to an elevation of around 4100m to reach the evenings camping ground near a place called Kara, covering a distance of 17-18 kms in the process.
To start this tough trek I needed a good night's sleep, but my first experience of sleeping in a tent was far from comfortable: Ours was a Summer time tent; I think it still gave a decent protection from the winds, but the chill it couldn't withstand. Also, our sleeping bags clearly read out the usable temperature in the range of 6 deg C, the night turned out to be colder. Thus, after covering myself in at least two layers of clothing from head to toe, snugly fitting into the sleeping bag I went to sleep. I did sleep soundly in patches, owing to the physical strain from the previous days trek, and whenever I was awake there was the soothing sound of the river for company.
I woke up at around 7 AM, though it was possible to wake up a little earlier – the chilly winds discouraged me from doing so. As in any outdoor camp the first priority was to attend to natures call in the midst of nature. Later, after brushing my teeth using the ice cold water I headed towards our guides tent. Sonam was already up and busying himself with providing us breakfast. As there was some 'Rice' and 'Dal' left over from the previous night's dinner Me, Gopal and Sonam had this for breakfast, the Americans had Porridge. After breakfast, there was the job of un-pitching the tent, which had to be done with bare hands and this was especially painful in the chilly morning. After somehow packing the tent we decided to lose some more of our back pack weight onto the donkeys, in view of the tough day ahead. I shed a few books which I was carrying and Gopal gave away his camera bag to Sonam.
We started the trek for the day at around 8:30 AM. The German camping group was still in the final stages of wrapping up. Sonam, who was still to secure the load on the donkeys told us to walk ahead and that he would catch up with us in a while. As the day-1 camping ground was located on a clearing near the river, we had to do some climbing in order the join the actual trek route. After about an hour of steady incline we came to a barren valley covered with snow on higher grounds, with a small but distinguishable stream from the freshly melted ice – possibly originating from Bhabha Pass. The visibility was quite poor owing to a dense cover of mist. The walk here was a pleasant experience and easy too as it was flat terrain.
As in any trek group, even ours was made up of people who trekked at their own pace. During uphill routes, it was usually Kyle and Gopal in the lead, followed by me, then Corrina, with Jake coming in the last. This surely is not a pointer on the person's capability but the individual's natural pace of walking a particular terrain, and our trek group, I felt, was an even one, in terms of physical fitness.
Our Trail Dog making up the rear guard.
True to his word, Sonam joined us at around 10:30 AM.

We walked along this route for another hour, after which Sonam made us take a short break for lunch – the last break before the final push towards Bhabha Pass. By this time it was snowing quite heavily, so we took shelter behind a huge boulder to eat our lunch. Sonam gave me and Gopal a dried 'Roti' each, which actually looked like a 'Naan', anyway taste of food had stopped mattering to me by that time, I gladly ate it flavouring it with fruit jam. As we were about to start from our brief lunch break, I asked Sonam 'how much further was the pass', for which he smilingly replied – "aur bohut door hain ji" (still very far my friend).
By around 12 PM we finally started the steady ascent towards Bhabha Pass.



Left-to-right: Corrina, Kyle, Jake and Gopal. In the background, we can witness the humble formation of the smallest of small streams, which further downstream may meet similar streams to form a river.
By now, the Snow flakes had become bigger and visibility poorer, I kept my camera inside as I didn't want to risk any damages to my camera – either from the snow flakes or from a fall, which was quite possible.
At around 1 PM we were overtaken by the German trekking group. One of the Mule-man in this party was completely drunk and gave us company till we reached Bhabha pass by his constant singing and blabbering. I was initially worried at his state; he was swaying from side-to-side while taking each step, but he did manage to cross the Pass in one piece. I learnt that he was drunk to make the effort of crossing the Pass easier.
During the climb, we (our trek party) tried staying as close to each other as possible; Sonam and the donkeys were far ahead and nowhere to be seen. Meanwhile, the weather worsened and it turned into a blizzard. After about an hour of climbing I could feel the scarcity of air, each step was becoming a big effort, and I found myself gasping for air after not more than 8-9 steps. This was the same for everyone. During each of those mini-breaks I would face away from the wind and wait for Corrina, who was behind me, to catch up, and then forcefully start taking those heavy steps lest I stop her progress. Around the same time I began to get thoughts as to why I was even doing this trek, and that I must have been stupid to undertake something this difficult. It was the collective determination of our trekking group which led me ahead, silently, step-after-step.
Finally, at around 2:30 PM, it was the drunkard who was a bit ahead of us who sighted the Bhabha Pass crossing. I looked in that direction, there was a banner tied across the Pass, it was just faintly visible and appeared at least half a km away. I thought, 'where will I muster enough energy to reach that place'. But, the sighting had infused new energy into the trek group which increased the climbing pace, I followed suit. When we were still 100-200 meters away from the Pass the trail disappeared, it had begun to snow with a vengeance, and we had to cross a snowfield at least 3 feet deep with a rocky bed. I did slip a couple of times, but the blind motivation to reach the Pass kept me going. Soon, our entire trek party was at the Pass. I was very relieved in lowering my back-pack. My shoes were non water-proof – I had never dreamt of encountering so much snow in this trek, as a result my feet were completely cold and wet, and as I was walking like this from the past 2 hours I was slightly worried of getting a frost bite. Kyle gave me some assurance by telling me that as long as you can feel your toes you are fine, I could feel mine, and wiggle them too. 🙂
We spent less than 5-10 minutes at the Pass. As we were deciding on whether to take a group photo at the Pass, Sonam, our guide, came back to the Pass and advised us not to spend much time at sub-zero temperatures, unless one wanted to freeze to death. Because of the strenuous climb our bodies had sufficiently warmed up and we were not finding it really cold, but Sonam's advice did remind us of the severity of the situation. I could even feel icicles to have formed on my two week long beard. We immediately started our way downwards.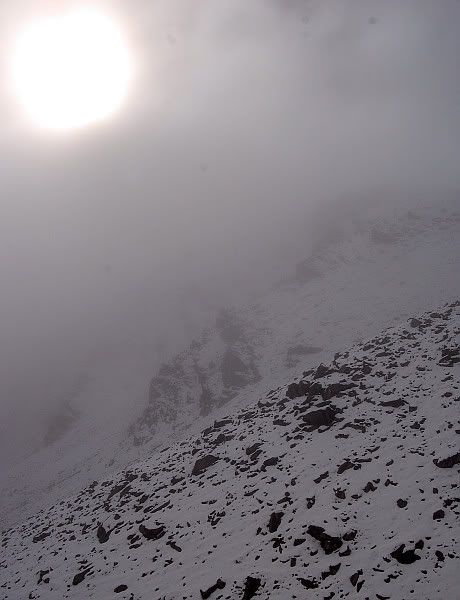 Diffused sunlight though the Mist.
As it turned out, downhill was more difficult than the uphill trek. The fresh layer of snow was extremely slippery and I found this out the hard way: by taking nasty falls and landing on my butt most of the times, only once did I use my left hand to cushion a fall and ended with a sore wrist for the rest of the journey. As I was the first to start the descent, the rest of the group became wary and started treading carefully. There were many places during the descent where I had to slide on my butt, I couldn't help but think yet again – 'how I ended up in this trek!' Meanwhile, Gopal was finding it more difficult than me and I saw him slip and fall on quite a few occasions. On one occasion he slipped badly and was found hanging on the edge of the path, with only his hands gripping on to the path and the rest of him on the sloping mass of snow. Thankfully, Sonam was nearby and he could help him up. Only the first half hour of the descent was like this, later the path became easier. Now we found ourselves walking on thick slime like surface, formed by the melting snow and mud. Even this was slippery, but nothing compared to what we had gone through half hour back.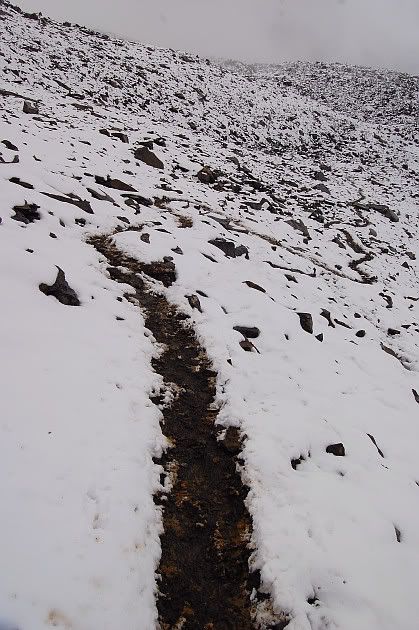 At around 4:00 PM we finally saw some clearance in the mist cover and we reached a view point, the stunning views on offer made us feel that everything we had been through this day was completely worth it.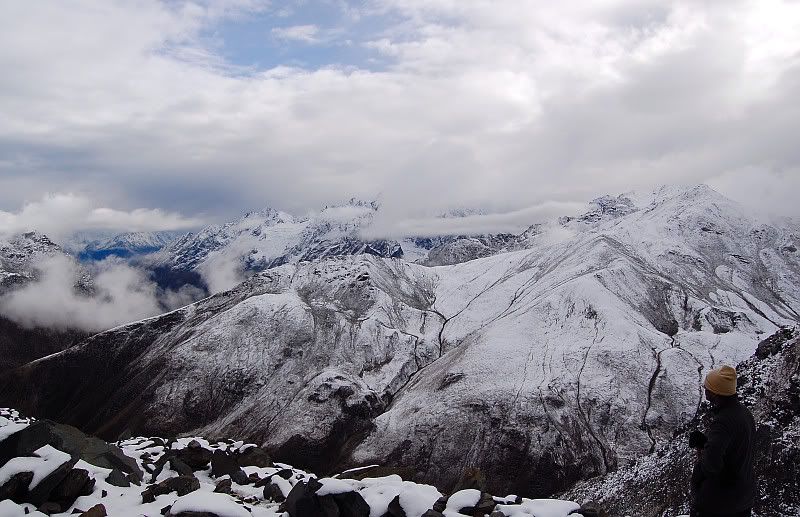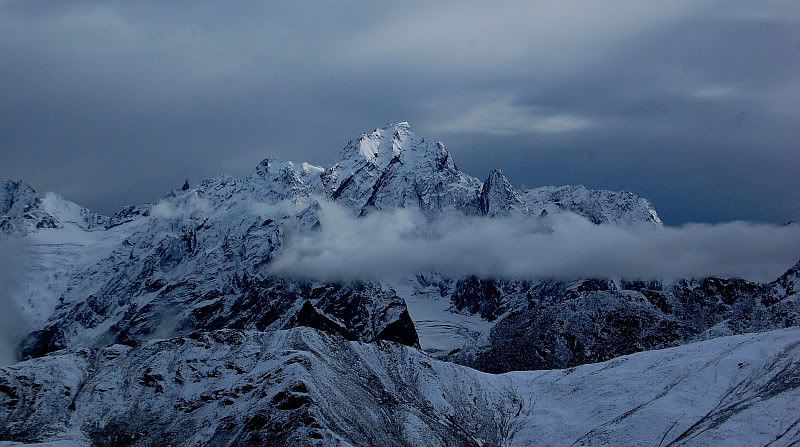 Around this time the Sun decided to make an appearance, which made us feel that our face (only part of the body exposed) was in an oven in full power – a result of the sun glare over a snow field. After applying sunscreen and wearing dark shades, we continued our journey downwards. The rest of the journey was quite un-eventful but the sight on offer of the nearby snow-capped mountain ranges was awesome, and one had to be careful not to lose a footing climbing down while gaping at the scenery.
I reached the camping grounds by 5:30 PM; Kyle who had reached earlier was in the process of setting up his two person tent. Myself, after searching for flat ground for our three person tent began to wait for Gopal, who had gone upstream of the spring line to get some drinking water. The last to arrive at the camping ground was Jake, he arrived at around 6:15 PM, he told us that the delay was because he experienced altitude sickness during the descent and that he even took some medication for the purpose.



The camping grounds.
We pitched our tent with practiced ease this time, soon after which it turned dark. We assembled at our guide's tent for the dinner and had steaming rice with 'Dal' and baked beans to our stomachs content. After having a brief chat with Manoj, the german camps guide, we found out that India had won the Twenty-twenty world cup against Pakistan. As it was too chilly outside we retired to our tent and went to sleep early at around 8:30 PM.
Date: 25th September, 2007