We had come to Kaza with the sole intention of acclimatizing to the high elevation (3800 m) before we could undertake the 4 day Spiti-Kinnaur trek over the Bhabha Pass.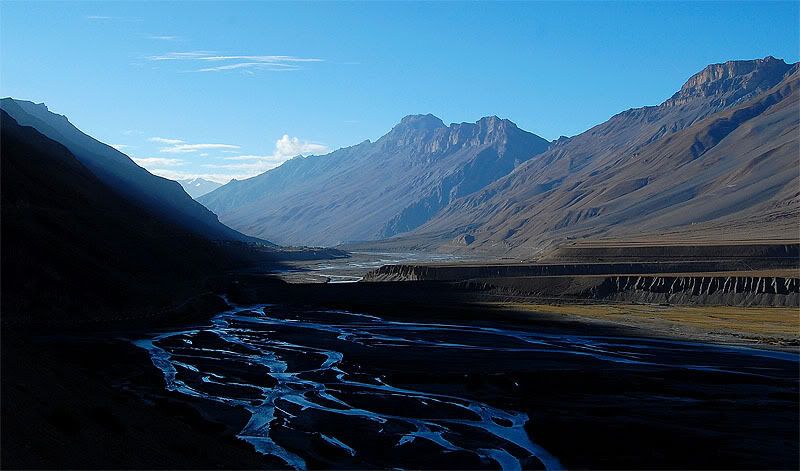 Spiti river basin. Picture taken on the way to Ki-Gompa.
The bus journey from Manali to Kaza, which initially felt like a journey offering new sights at every bend and change in altitude, did not seem to end at all. The bus which was making its way though some of the most desolate and driest parts of the country I have ever seen was taking a toll on the passengers.
We arrived in Kaza by 4 PM; we had started from Manali at 5 AM. We checked into the first guest house we came across – Potala Guest house. We rented a decent double-bed room with an attached bathroom at 200 Re per day.
Even after being in Kaza we still had no concrete plan on how to go about planning the Spiti Kinnaur trek – we had hoped to figure out the logistics here. We did some inquiries at a tourist agency called 'Sakya' – The tourist operator gave us an estimate of 1000/- Re per head for the duration of the trek with everything (guide/porter, donkeys, food, camping gear) taken care of. He also suggested that we could cut a day from the trek by starting from Mudh instead of Sagnam (as mentioned in the Lonely planet guide), which would have resulted in a trek of 4 days, and he also told that we would have to pay for extra 2 days – time taken for the guide/porter and donkeys to return back to Mudh. Taking this trek would have cost us 6000 Re per person. We simply did not have so much money on us :). We did some more inquiries at a place called 'Ecosphere', they informed us that none of the guides/porters were available from their organization for another week or so. But they told us that we could easily get guides/porters at Mudh (trailhead). At that time, we thought it would be risky to reach Mudh with zero preparation and expect that everything would fall in place for the trek.
The next morning we visited Ki-Gompa, Tibetan monastery in Ki, a 20 minute drive from Kaza, hiring a Tata Sumo (pick-up and drop = 300 Re).
Ki-Gompa
The Gompa bore a deserted look. We entered the prayer room, it looked like the morning prayers had just then finished, the kid monks were moving out silently and a kid was sweeping the floor. In a corner were seated two foreigners trying to eat something served in a bowl, I was glad to have come late as the food in the bowl did not look appetizing. Not sure what to do next we seated ourselves next to those foreigners for a couple of minutes and later moved out to speak with a monk who was leading the proceedings. He spoke good Hindi, he was telling us that the Dalai Lama had visited this monastery some years back. He told us that those foreigners we saw were staying at the monastery from a few days and that they were interested in the Tibetan culture. He later directed us towards the top floor to take a look around. We never found out what he wanted us to look at – almost all the doors were locked except one room which had a boy-monk sitting and striking a gong at regular intervals. We did not want to disturb him. We headed towards the ceiling and lo, we were at the highest point in the Gompa, greeted to the most wonderful sights of the surrounding landscape.
A Trishul at a Gompa was quite surprising.
The opposite mountain range as seen from the Gompa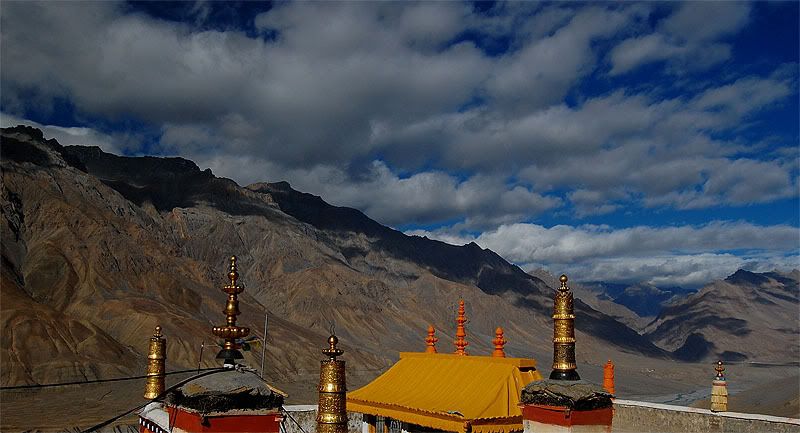 Ki-Gompa terrace.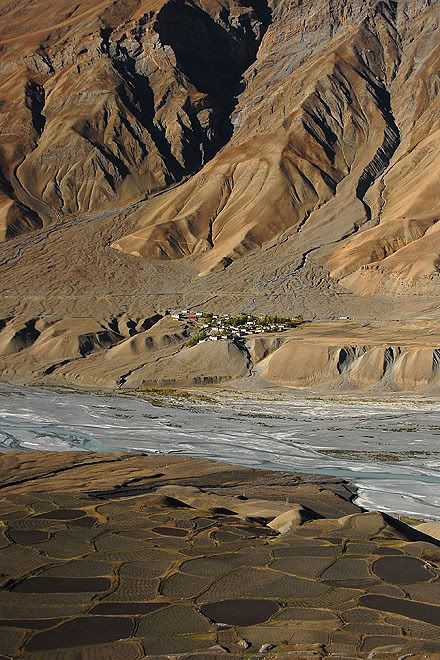 A nearby village as seen from Ki-Gompa.
We returned to Kaza by 9 AM. After having hot 'Aloo Paranthas' at 'Khyoma Restaurant', managed by three Tibetan girls, we resumed our planning for the trek. By this time, the combined effect of the lack of a concrete trek plan and our imagining of the typical travails involved in a trek lead us to unanimously cancel the trek. We convinced ourselves that the experiences we would have encountered during the trek would be not that big a deal. We had decided to take the evening bus towards Rekong-Peo and spend more time in Kinnaur. As we headed back towards our guest house, the Americans (two guys and a female), staying in the opposite room, who had known about our trek route spoke to us for the first time and informed us that they were planning to trek the same route. Even they were searching for guides/porters in Kaza. It was decided that we join them in the trek and split the costs. In a matter of hours we had canceled and later decided to do the trek. I think, it is this kind of adaptability which is most important for a successful trek/travel/adventure.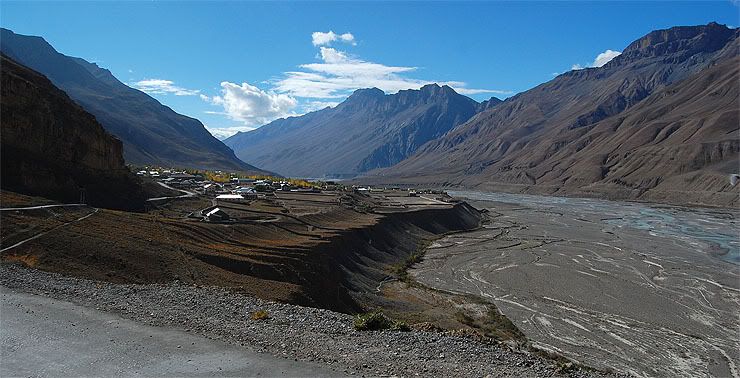 Kaza
Dried up river-bed which flows through Kaza and joins Spiti river.
Acclimatizing: The effect of the altitude was very easily evident at Kaza (3800 m) – just a few minutes of walking was enough to run out of breath. There was a stinging sensation in the Nose while inhaling – effect of the extremely dry climate. We experienced first-hand why every trekking book recommends sufficient acclimatizing during high-altitude trekking. We were keen on adapting to the elevation and dry climate as fast as possible. So, we went out on an expedition of the nearby areas. Before long, we had decided to descend towards the Spiti river basin, this was more difficult than it first seemed and took a good half hour just to find the path to descend towards the river basin. The rivers level had subsided and we found ourselves walking on the river bed.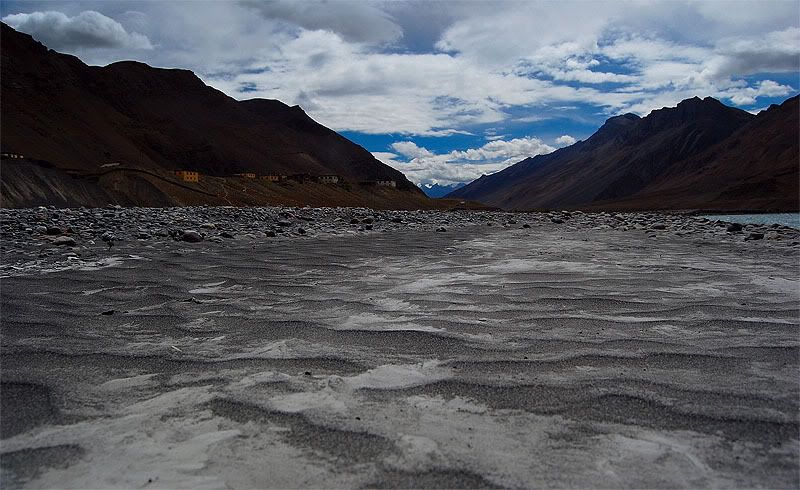 Spiti river bed
The rest of the day was spent in planning for the trek, buying rations and other things. The Americans had a kerosene stove and some utensils, one less thing to worry about. We met another tourist operator who advised us to travel to Mudh and arrange for the guide/porter and donkeys. He also gave us a contact in Mudh – Sonam (guide) of 'Tara guest house' who could also arrange for donkeys for the trek. So, it was decided to leave for Mudh the next day (23rd September) in the only bus which leaves Kaza at 4:30 PM.
The next morning I ended up with a cold-fever and Gopal was not feeling that great either, he was complaining of severe stomach aches. Again, we were back to discussing whether we should do the trek in such a situation. At one point of time we even resolved to give away our part of the rations to the Americans and drop out of the trek-plan. Later, somehow, we thought of waiting it out to see if we would feel better by evening. Suraj, owner of Potala guest house found me a Tibetan doctor. The doctor after doing some check-up gave me some Tibetan medicine: yellow-green powder and mud-brown balls. I asked him whether I could do the trek starting next day, he seemed quite confident that i could and only advised me to wear warm clothing at all times. I was quite surprised by the doctors assurance as I knew that I was not feeling that great. But for the moment I decided to go with his confident assurance.
We took the 4:30 PM bus from Kaza. We had to mount our back-packs on top of the bus and tie them safely ourselves. We were in Mudh by 7 PM. We checked-in into 'Tara' guest house, Sonam, our guide, had just returned from guiding a trek troupe. Without even a single day of rest on his part he agreed to guide our trek.
The expenses for the trek were worked out as:
1 guide = 300 Re per day 1 porter/cook = 200 Re per day 1 donkey = 200 Re per day * 3 = 600 total = 1100 Re per day. 6600 Re for six days.
Date: 21st to 23rd September 2007
Place: Kaza, Spiti, Himachal Pradesh