Date: 14th November
Place: Scotland
'Invergarry Hotel': I would strongly recommend the hotel for travelers visiting this side of Scotland. Well located – right in the middle of the woods, with a stream flowing just across the road, good food, good looking hostess ;), good lounge – with a complete library and CD rack, if anyone wants to relax. The only downside being the ill mannered, probably racist waitress.
We were occupying a room on the second (top) floor, again as usual it was not until morning we could appreciate the full grandeur of the locale we were in. The overcast conditions with the light drizzle simply accentuated the view from top floor. Accompanied by the gentle sound of flowing water from the stream below, we did what was needed to be done – try to preserve the scene forever.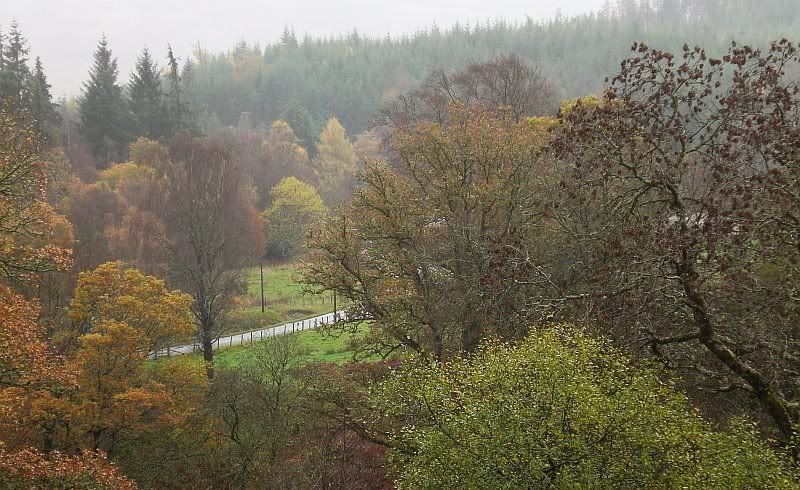 above photo taken using 'Casio Exilim', a point and shoot digital camera, but it was amazing how the quality of the photo taken drastically improved once i mounted this camera on a tripod.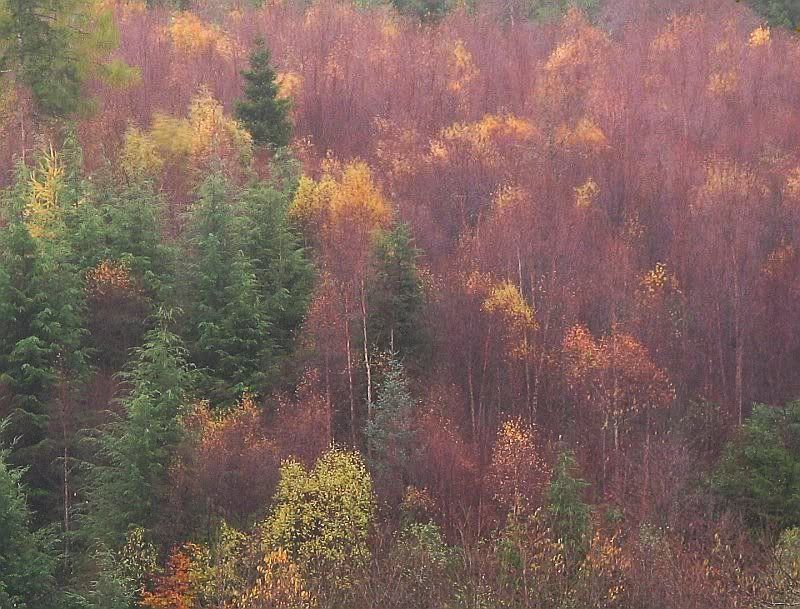 full colours of autumn. I really wished that I was a poet rather than a photographer while taking the above photo.
As we were checking our from this hotel, in the distance, there was this snow covered peak, did not have enough time to go for a different viewing point. Besides, the silhouette of the nearby tree with the snow covered peak as the background was good enough a snap. The trick while taking this photo was to try and focus to the snow covered peak rather than the foreground (tree branches), easily achievable.
Invergarry was so near to Inverness, at least on the map we were carrying. This was the last day of our vacation in Scotland. If we had decided to head towards Inverness, which was in the opposite direction to that of Glasgow, there was a risk of not making it back in time to Glasgow, and we had to return our rented car at Glasgow. So, we decided to cover as much distance as possible towards Inverness, get a good view of Loch Ness and head back towards Glasgow.
We did get a view of Loch Ness, the view, not anything to brag about. Loch Ness stretches all the way from 'Fort Augustus' in the south to Inverness in the north. At Inverness it opens into the sea. Sadly we couldn't make it all the way to Inverness. We stopped at a place with the lake on our right hand side and this woodland on our left hand side.
Fallen bed of leaves, moss covered tree stumps. Orange and Green, the shades together, a photographers delight!
That is it, after trying my level best with all the manual modes in the camera, couldn't get a better shot, i need a better camera.
Spean Bridge: On our way back, as we were about to enter Fort William, the Nevis range, was quite spectacular. Before we could park our car and get a better shot of the scene, the sun played spoil sport and came out of its hiding from behind the clouds, over exposing our CCD sensors with its brightness, in effect, masking out the beauty of the Nevis range. There is a Sky resort with a cable car which can take people up to a reasonable elevation on the other side of this range which was closed during our visit.
The Commando memorial in Spean Bridge – 'United we Conquer', and conquer they did!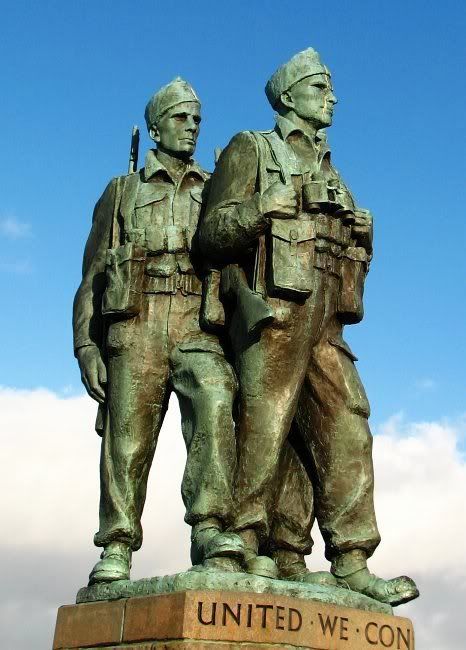 Fort William – Whiskey Distillery: Visiting Scotland and not visiting one of these distilleries is not completing the Scotland experience. We had a guided tour of the distillery. Now, acquainted with the process of whiskey making, which was really informative, it was the whiskey tasting session. To our disappointment, we were given very small quantities of the whiskey. Me and another friend bought a bottle each of 'Mac Donalds – Glencoe, Finest Malt Whiskey, aged 8 years'. Don't know whom i will be gifting this to ;).
From here, took a slightly different route via 'Oban', different than the one we used to come to Fort William. Though this route was traversing right next to the sea, our wary eyes which had seen a lot of such scenery over the past few days, didn't find anything worth while to stop the car.
Lunch at Oban: One of the prettier towns we have come across, with a steep descent to enter the harbor city. Spending some minutes struggling to find a parking space, few folks pointed to a empty space in the 'Tesco' parking lot. Off we went food hunting, myself having had sea food from the last three days even agreed to eat at a Indian restaurant if we came across any, did see a lot of hoardings of the same. unfortunately/fortunately they were all closed at that time (late afternoon around 15:00). We finally settled for some delicious hot paninis (take-away). Our earlier plan of eating our lunch, seated on a bench facing the harbor did not work out, because of the cold winds, also with the added risk of biting off our already numb fingers with the paninis :p. The coast line was beautiful, too bad i did not have any of my cameras with me, though i remember Gopal having his S1 IS, and i also remember taking some snaps using his camera while he was messing with his SLR. If any of the snaps have come up well, will update them here later.
From Oban, the journey was quite uneventful.
A short stop near one of those lakes, don't remember which one.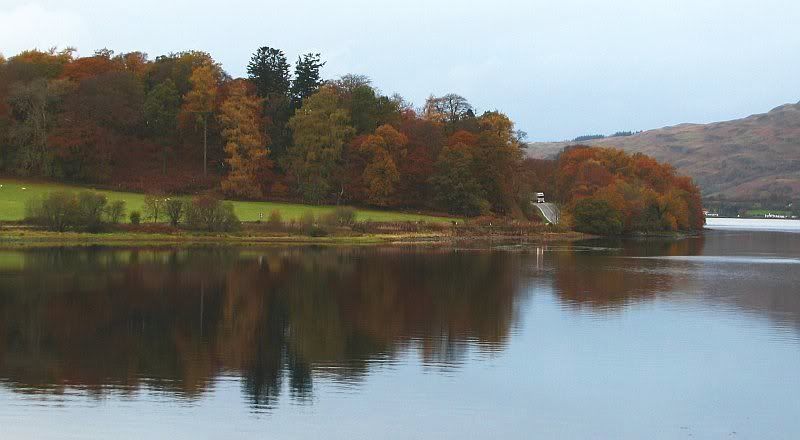 The journey to Glasgow: We were supposed to drop of our car at the Glasgow ariport around 6 PM, we had a good 2 hours with us, but then, the narrow road ahead of us and the heavy rains, we had not accounted for. In the front seat, getting a driver's view of the narrow road and poor visibility because of heavy rains, i can never forget the really good piece of driving by my friend Venkat. After only driving in this country from the last three days, his was a noteworthy achievement.
–Here it ends, the four part series of 'Scotland Trip'–