>Date: 19th July, 2009
Place: Pune, Maharashtra
I had been in Pune for a weekend to attend a friends marriage – utilized the opportunity to its fullest by exploring this charming city and meet a long-standing online friend.
Dr Dinkar G. Kelkar:
In his quest for all that is beautiful Dr. Kelkar collected artefacts from all over the country. At times he drove his family to ruins, travelling across the country in search of everyday items that reflected the past. The museum houses just 12.5% of Kelkars collection of more than 21,000 pieces. Room after room, case after case, displays one man's unceasing passion for collecting art, art that is not remote and distant but taken from the every day life of India's millions, artefacts that show Indian genius in seeking final things of life in the ordinary, the practical and the mundane.
The above paragh is justification enough for any art enthusiast to give a visit to this museum.
It's my endeavour here to bring parts of this museum to the view of internet public. The photographs are just a cheap substitute to the experience of viewing the artefacts in real.
The Museum doesn't allow photographers to use flash and at most places there is poor lighting; I have tried my best by shooting in RAW format and with higher ISO settings to reduce camera shake.

Panchamukhi Maruthi – Five headed Maruthi
Wood – South India – 18th Century

Yali – Evil Crusher
These are usually found at the entrance of South Indian temples. Yalis are tall fearful looking sculptures with the face of a roaring Lion and the limbs of a Vulture. There are many variations in the making of a 'Yali', at times it may also be designed as a combination of Elephant and Lion.
The 'Yalis' are usually seen standing over 'Kirttimukhas' (a magical protective mask with lion or human face), but in this one we can see it perched over a demons head as though crushing evil beneath its feet. Thus implying that anyone entering the temple should discard all ill thoughts before crossing the threshold

A close-up of Yali's face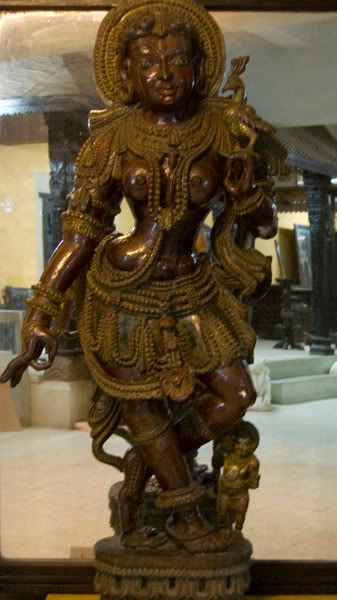 Meenakshi – Consort of Shiva with fish shaped eyes. She is the chief diety at the famous Meenakshi temple at Madurai, Tamil Nadu. Meenakshi stands here in tribhanga pose, her hips gently extended to the left with left knee bent forward. Her eyes are stylized in the shape of fish and are large. She is seen holding a peacock which is the symbol of fertility as is reinforced by the fullness and ripeness of her feminine figure.


Wooden carved beam, part of the doorway.

Sri Krishna with eight wives and Sudama
Sawantwadi, Maharashtra – 18th century

Chariot toys
Jodhpur, Rajasthan – 19th century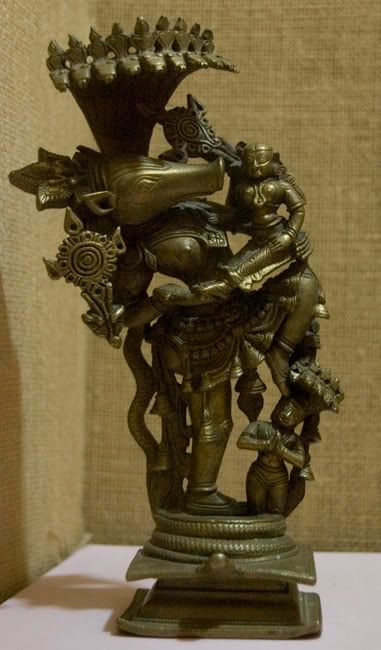 Varaha Avtara – Boar incaranation
The third incarantion among lord Vishnu's ten incarnations.

Lord Ganesha
Brass – Siam, Thailand – 19th century
In India Ganesha is rarely seen without a crown but in Thailand such images are common.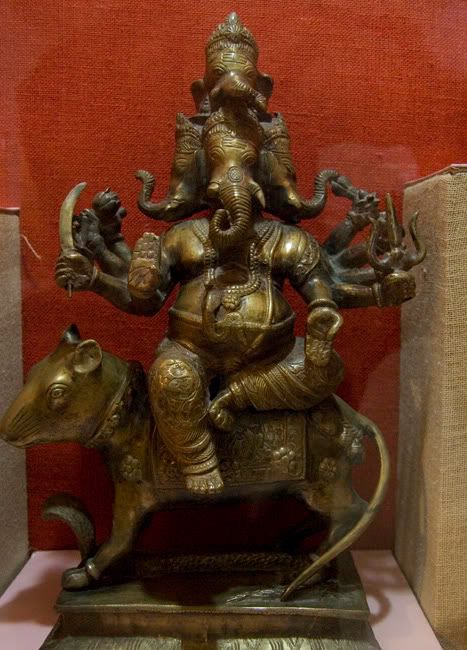 Five headed Ganesha
Maharashtra – Early 20th century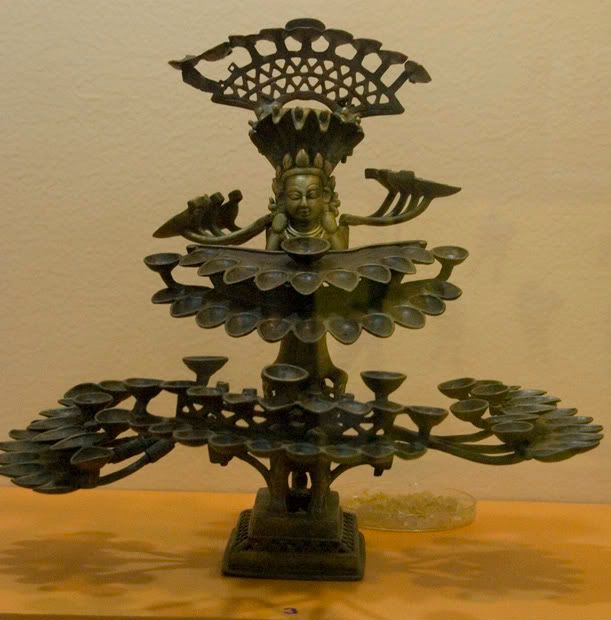 Lord Vishnu, Votive lamp (Brass)
Tamil Nadu – 18th Century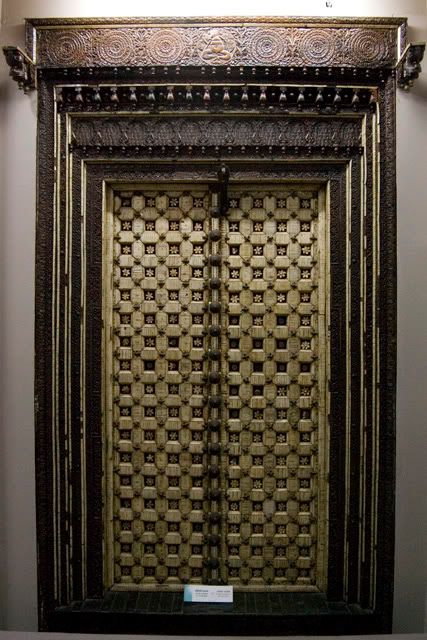 Ivory Door
Rajasthan – 18th Century