Place: River Cam, Cambridge
Date: 13th March 2006
I finally had a go at it. Had promised myself; will not leave this place until I try my hand at it, now that I have, can't get enough of it. Punting!
The Punt (a flat-bottomed boat with a square-cut bow) gliding over the relatively still water, with scenic places on either side of the river, believe me, try as I might, the amount of experience was much beyond my capacity to assimilate. So, yours truly has decided to do much more of this wonderful sport while I'm here.
Had read about Punting and knew that, though it looks deceptively easy, its not. It would have been difficult to try my hand at it without an expert's guidance, that expert was my colleague, who after finding out that I was very much interested in having a go at Punting, took us (me and my friend) to a punt ride and taught us the nuances of punting.
Punt station, owned by Trinity College.

The weather was ideal for Punting, not very sunny, not very cold, and just perfect.
The Bridge of Sighs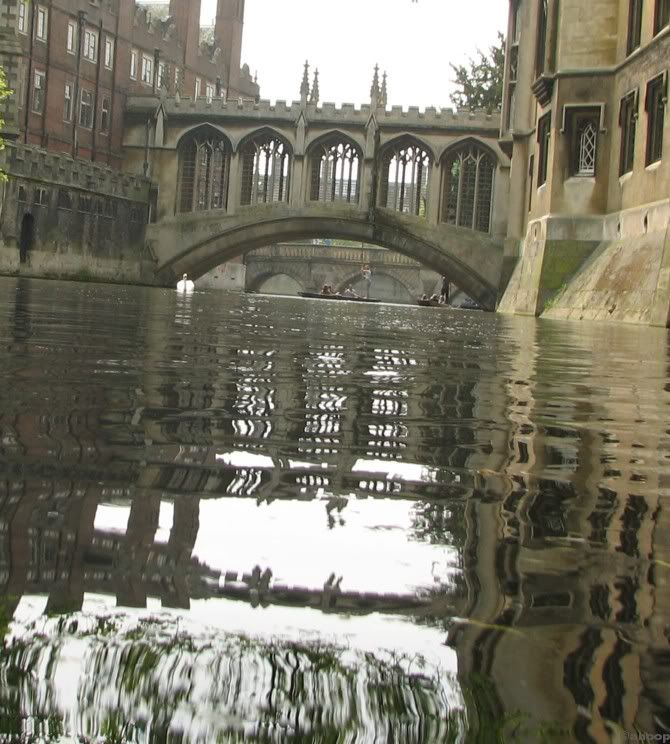 This Bridge is named after the "Bridge of Sighs" in Venice. This is a bridge belonging to St. John's College of Cambridge. Locals jest that the bridge got its name from the sound that Cambridge students make as they cross the bridge on their way out of exams.
I was doing good progress on the Punting front, as a result was not able to enjoy the view offered to me on either side. Initially struggled a lot to steer the boat, soon, learnt to use the Punt pole as a rudder, then on it was smooth sailing, of course with some minor hiccups like; bumping into fellow punters in the river, crashing into the walls, dropping the Punt Pole (not me).
A fellow punter who has dropped his Punting pole and paddling back to recover it
This is quite common, if the bottom is muddy; there is every chance for the pole to get stuck, twisting may free it. If that fails, it is better to let go than to fall in. Most hire companies supply each punt with a canoe paddle, which can be used to get the punt back to a dropped pole.
Lady punter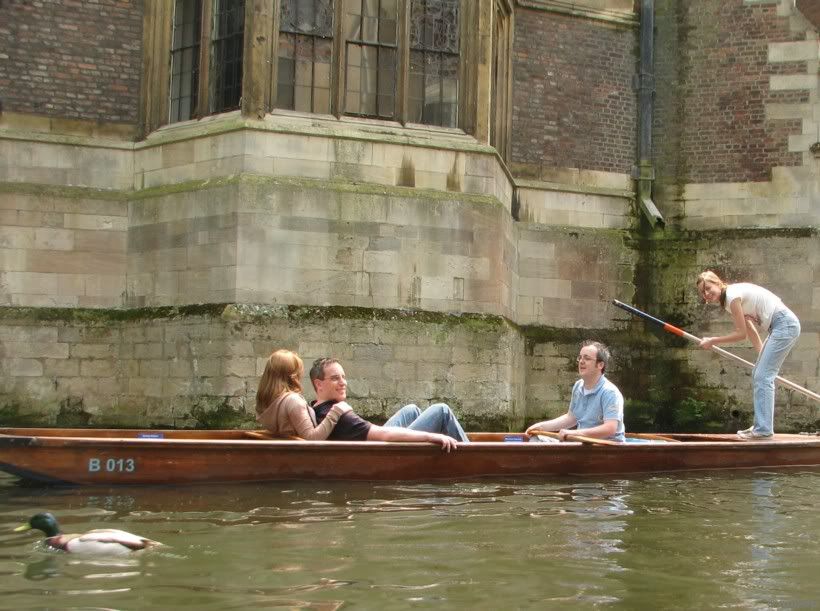 Almost all the punters we see over here are students punting to earn some extra money.
Perfect stance for Punting

The traffic of Punt's increased as the day progressed.
We managed not to bump into most of them.