A good night's sleep with not even dreams breaking the slumber coupled with a lack of discipline to set an alarm resulted in making-up for the previous days strain and lack of sleep. Woke up at 8:20 and was out of the room by 8:45. Ordered the same breakfast as yesterday – French toast and milk, but it was not as good.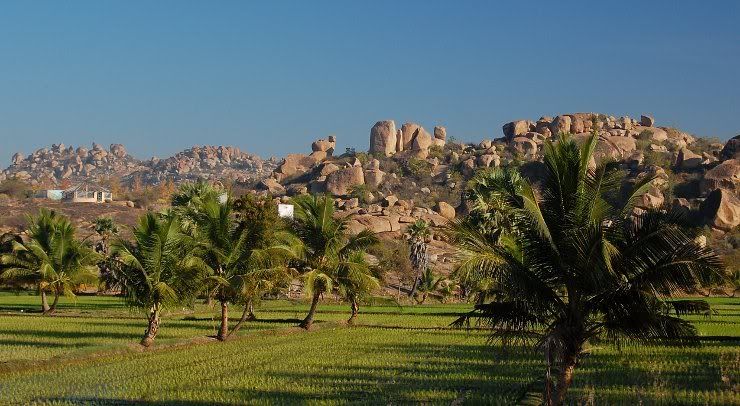 The view from restaurant – paddy fields.
The day's itinerary was simple: morning visit to Vittala Temple, lunch at Mango Tree, afternoon cycling towards Anegundi and evening sunset from Anjaneya hill.
Was at the river side by 9:00 and regretted noticing that the sun was already quite high. 'I have the whole day for myself, why hurry', was the mantra! More people were crossing over to this side of the river – maybe in search of accommodation. In front of Virupaksha temple bought 4 Bananas for 5 Re, fed two of them to cows; one cow I hand fed – its tongue lightly brushing it off my hand, yeah, it felt good. The main street had a deserted look; the women were involved in their early morning chores – sweeping, sprinkling water to settle the dust, drawing rangolis, fetching water, and the kids were already active with the day's games. Near the giant Nandi statue at the end of the road (opposite end of Virupaksha temple), Karate classes were in progress on a raised platform next to a ruin.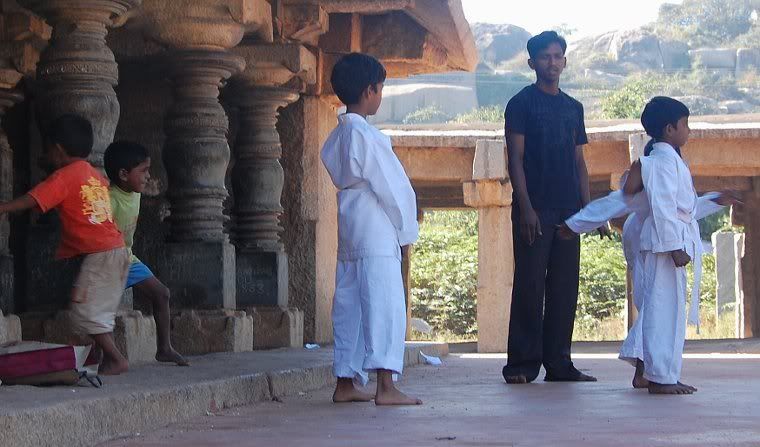 The Master was inciting a kid to kick another kid as hard as he was kicked moments ago. The kid being kicked – had a look of determination, had clenched his fists, maybe also making a mental note to kick back the other kid even harder when he gets his chance.
From here the path to Vittala temple (about 2-3kms) leads next to the scenic Tungabhadra River.

Anjaneya hill in the distance.
Vittalaraya Temple
9:50 AM, people are still trickling in, no major tourist bus has found its way to the temple yet.
This temple, quite clearly should have been the most important during Vijayanagara Empire's reign. The location – next to river, the pathway leading to entrance and the structures inside is a clear indication of this fact.
As I approached the temple, was again greeted by a half-destroyed/crumbling or half-constructed gopura, this was the south side gopura of Vittala temple. It had all the signs of a re-construction effort by the ASI (Archaeological Survey of India). I'm sure the court stay brought about by Shivram Karanth (against ASI) has a hand to play here.
Such a ghastly effort! Why couldn't they just let old be old!
Note – all the half renovated structures have pink paint on them.
Inside the complex, there are four major structures, the main centre structure (the one having the famous musical pillars), the empty garbha gudi behind it, kalayana mantapa on the left and the stone chariot. The chariot faces the temple (not the main entrance); it might show the respect given to the presiding deity that once occupied the 'garba gudi'.
Interestingly the parapet decorations of the two main structures have been done using brick and mortar, quite unlike the Hoysala architecture.
Kalyana mantapa
There is a raised platform inside acting as the centre stage where many a marriage ceremony might have taken place. Imagine the grandeur of a marriage at such a place. I'm sure a marriage at this place could have been only in the reach of the Royal family.
No visitors were allowed inside the main structure due to renovation work.
Stone chariot
Was a little disappointed by the size of this structure, but the carvings are mesmerizing nevertheless. And no, I don't think this structure can be moved on those stone wheels contrary to popular belief.

It didn't take too long for me to realize that the lighting was too direct and harsh for landscape photography; changed into the 55-200 mm lens to try out some shallow depth-of-field shots.

Mode = Aperture Priority, Focal Length = 175mm, F-Number = F/6.3, Exposure Time = 1/2500 sec, ISO speed = 400, White Balance = Daylight, Exposure Compensation = -1.3


Mode = Aperture Priority, Focal Length = 165mm, F-Number = F/7.1, Exposure Time = 1/1000 sec, ISO speed = 400, White Balance = Daylight, Exposure Compensation = -1.0
More people started to flock the place; a bus from Hospet brought some school children. Peaceful photography was no longer possible and besides I was done with all the places of interest.
A visit to Vittala temple is not complete without hearing the notes emanating from the musical pillars, they say. Well, a sympathetic guard did give a private performance (to a small group) by tapping three of those pillars. The sound was unlike any instrument i have heard, but at the same time it was not something un-imaginable. If the musical pillars were really being used for generating music as demonstrated by the guard, I would think it would need some kind of a baton with sufficient dampening at the ends to get any audible sound at all in a dance/music performance. However when I spoke about this with a friend, he believes that – the pillars could not have been used to generate music by being tapped upon, what if they were used just for resonance in a musical performance – Its a fair argument, and one which does make more sense too.

Lone traveler – there were quite a few.


Finally headed out of the temple complex by 11:15 and explored around a bit for vantage points to get snaps of the temple structures with Anjaneya hills as the backdrop.
As I headed back towards Hampi bazaar, took a slightly different route than the one taken yesterday evening. Visited a few more structures like King's Balance (which is not more than a rectangular arch) and few other structures on the top of the mound – got a nice panoramic view of the surroundings and Anjaneya hill was clearly the tallest. Came across the entrance to Achutaraya temple but didn't visit it. Besides, another ruined temple with a soulless sanctum was not very appealing.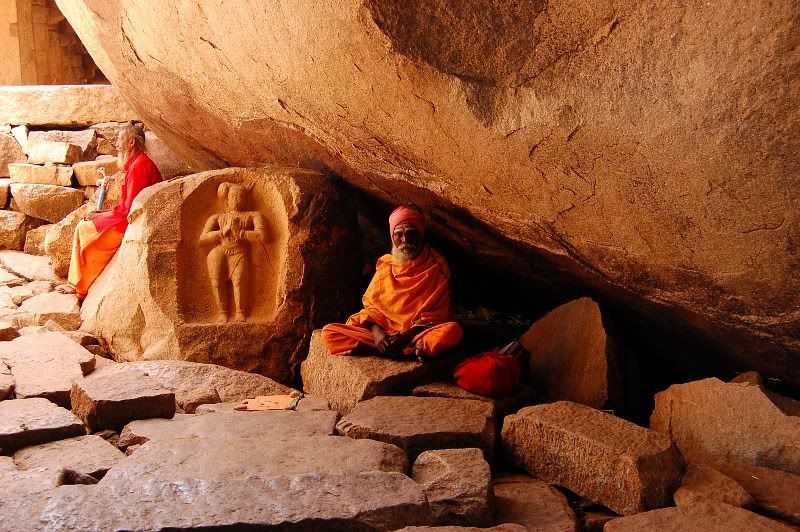 These two Sadhus were seated at the entrance of a small tunnel (formed by boulders). The one in the centre was smoking hookah minutes back. There was a certain kind of aura about them; they were totally silent, expressing nothing and also expecting nothing. I gave alms for the Sadhu on the left of picture; he showed gratitude when he received it, but there was no lack of honor – difficult to put it in words – it was both like, he was thankful but at the same time it didn't matter.
As I reached Hampi came across kids playing with their spinning tops. One of the kids was quite dexterous in lifting the top with his rope onto his palm – with the top still spinning!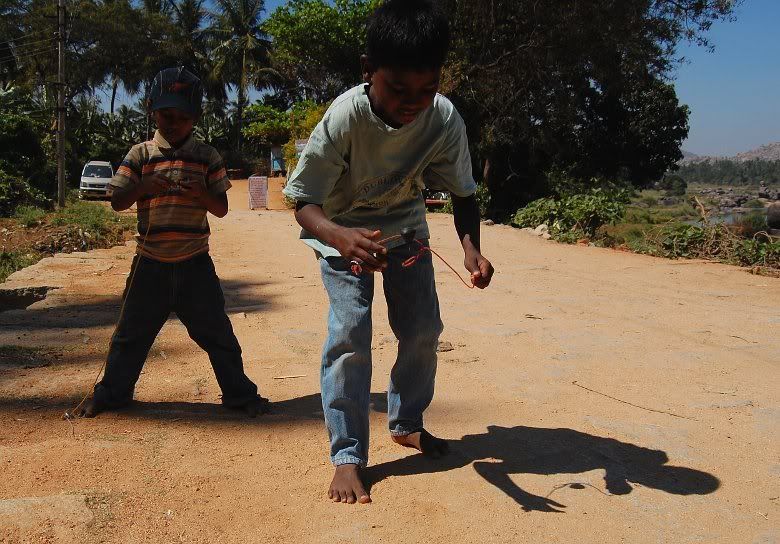 The top is midway in air before its balanced safely on his palm and continues to spin.
Some of the houses in Hampi bazaar have been built using the structural foundations from the ruins of Hampi, as a result you get to see houses with great pillars and high ceilings patched up with brick and mud walls.
I was at Mango Tree restaurant by 12:40. This is the most well known restaurant in Hampi, and for a reason. As I just had a south Indian 'thali' and lassi, probably I'm not the right person to review the food here, but the location (right next to the river) are the cool natural shade of the trees surrounding the restaurant are just too soothing. I sat at the lowest level; the seating was on the floor with a sloping back rest. It was 13:40 by the time I headed out.
Note: to have a peaceful lunch enter restaurant before 13:00.
Crossed the river and was in my guest house (Raju's) by 14:00. After a quick visit to my room for freshening, and a brief conversation with the owner aunty – who had been quite talkative – I started on my next leg of adventure for the day. First thing to do was rent a (decent) cycle which was quite hard to find; finally settled for the best of the worst. Started heading towards Anegundi which was meant to be about 8-10 kms by road. The road was in good condition and would have made biking a pleasure if the cycle was in better condition.
About 30 minutes of cycling led me to a fork in the road with a board "Pampa Sarovara" – I later regretted taking that road. About a km from that point was Pampa Sarovara (a water tank covered with water lotus with no flower in bloom). Time was 15:10; relaxed for a while on the steps of the tank and continued towards Anegundi. As I passed Anjaneya hill on the way made a mental note of the distance from there to Anegundi. Finally reached Anegundi by 15:40, tired. In all this mindless cycling had never planned what I would be doing once I reach Anegundi; reaching the destination had been more important. It looked like a regular Karnataka village. Though I remembered seeing some ruins on the river side the previous evening there was no motivation to visit them now. I just followed the direction of majority once in the village (the policy I usually follow when in a strange place), and the majority were heading towards the fallen bridge (bridge between Hampi and Anegundi which tragically snapped during construction taking with it some 20 construction workers to the river bottom). Since I had cycled this far, I thought would take a look – the police were not allowing any vehicle (except cycles) beyond a point. Within 0.5 kms I felt my cycle become harder to ride – deflated rear tire. Abandoned the bridge visit, pushed cycle back to village and got it repaired. By then it was 16:20, headed back in the direction of Anjaneya hill.
Anjaneya hill:
Parked cycle in a Tender coconut make-shift stall since the stall boys were advertising free parking, which of course obliged the people to do business with them. Had a tender coconut with less water more meat – it was sweat, and as always refreshing. Started the climb by 16:45; met a priest during the climb and had a friendly conversation with him for most of the way.
This must be some of the most fertile regions I have seen till now with a well networked water supply. 360 deg view from this hill – its either greenery or boulders.

After taking enough pictures visited the sanctum which had a rough carving of Lord Anjaneya as the main idol. The same priest who had been friendly with me while climbing up minutes ago was silent and seemed like a person to be held in reverence. Funny, how people can be perceived differently in different conditions.

He had been writing something in his book for quite sometime.
Found a nice vantage point at the hill edge; had forty minutes before sunset, and for forty minutes I did nothing but lie on my back and stare at the blue expanse, occasionally sitting to view Hampi below.

Vittalaraya temple

As the sun dipped closer to the horizon I did what I like doing best: watch the sun as it changed its color from bright yellow to fiery orange and later to sober red moments before it disappeared beyond the horizon.


On the way back to Hampi helped a foreigner whose bicycle chain had jumped off its groove. It took about 5 mins to get the chain back in its place, which in my school days could have accomplished using sticks (avoiding dirtying of hands) – a skill any cycling kid would be proud of.
Was back in room by 19:30; took bath and headed out in search of restaurants. Though I entered a restaurant called 'On the Rocks' (some by-standers recommendation) and had lemon tea, didn't feel like having my dinner there. Came back to my room and ordered mixed chopsie from the adjoining 'Evergreen Restaurant'. The owner did tell me it was going to be late as they were running full house but I didn't expect it to take that long. There was no place in the restaurant, it was completely packed, decided to wait in room. Waited till 21:45 (half sleeping), and when there was still no sign of my dinner went into the restaurant and found a place to sit. It was a regular foreign crowd. The opposite table was occupied by girls who were busy playing some card game. To my left a middle aged woman and guy having some serious conversation and a girl sketching something in a large book. To my right (across the table) a couple who seemed completely knocked out on beer and lying on the mattress. Finally food came by 22:15. The couple seated (rather sleeping) on my right left and an Indian couple occupied the table. This couple placed an odd request with the waiter – 'to stop them from ordering anything extra after they cross the budget of 500Re as they had only so much money with them and didn't want to track their bill'. Later after their food arrived and I was still eating mine, at my usual pace (which is slow), a lady holding a black pup (street dog pup) swaying from left to right entered the restaurant and occupied the table on the right – in front of this Indian couple. Till this day I don't understand why this couple offered their food to this new lady, who apparently was quite completely drunk. So, now, when this drunken lady grabbed the entire plate the Indian couple told her that they had only offered to share and not asked her to take the entire thing. For this the drunken lady moved to another table and started creating a tantrum, the Tibetan owner indicated that he was helpless.
I know all this might seem irrelevant when speaking about Hampi, but even this is part of the experience of what the modern day Hampi has become.
Came back to room in ground floor and slept by 23:00. Stomach felt a bit uncomfortable from the food. Was in a half-asleep half-awake state for a long time after sleeping, and whenever the mind was conscious enough to make out the sounds coming from the open window, it could discern that the female (from the Indian couple) was very much involved in a intellectual argument with someone else, at times quite loudly, on something related to work satisfaction!
Date: 25th Jan 2009
Place: Hampi, Bellary, Karnataka