Place: Grantchester, Cambridgeshire
Date: 28th May 2006
Was fed up visiting BIG cities: London, Nottingham, Birmingham… to name a few.
After visiting a few cities every other city starts looking the same. So, decided to explore the places in and around Cambridge – where I stay. Grantchester is one such village near Cambridge, which I had heard of, that too quite often.

It was a three-day weekend, Monday being a holiday. Had promised myself will go for a cycle trip. All I could manage was a 3-hour trip to Grantchester.

I'm quite used to looking up the place on Net, to get info on – how to get there, the places of attraction in and around the place. This way I will not miss the major attractions. Likewise, when I started this activity for this trip it was already 3:30 in the evening, I was counting on the late sunset-9:00 PM and lovely weather, which didn't disappoint me. Browsing the net to decide which way to head (I was not very particular about heading to Grantchester at that point of time), found this concept of NCN – National Cycle Network is a network of cycle routes in the United Kingdom. The idea of such a concept called NCN, existing, just excited me, what with my newly hired 18 speed Mountain Bike, this is justified.

By the time I headed out of my house it was 4:30 PM, planned to make it back by 7:30 PM. Had to buy a Water bottle, ended up buying some energy drink, carbonated Glucose water – lemon flavoured. Now, had no idea what this NCN thing was, how will I find the directions? Headed towards city centre, and there it was clearly marked on the signboards, NCN 11 à and NCN 51 ß. Not interested in NCN 51 as of now, NCN 11 seemed to be pointing in the direction of Grantchester. Just kept following the directions, soon I was out of the city cycling on remote parks. After a distance of around 2 miles, the route lead me to a main road, not to worry as there is a separate lane for cycles, but, its not the same as cycling through fields. Another 1-½ miles, I reached Trumpington; soon I got a signboard Grantchester-1 Mile.

Grantchester: Incidentally this place is famous as it's the first major village from Cambridge on the river Cam. One can hire a Punt to Grantchester and have a picnic on the banks of Cam or pay a visit to the many Pubs in this village.

Signboard – pedestrian path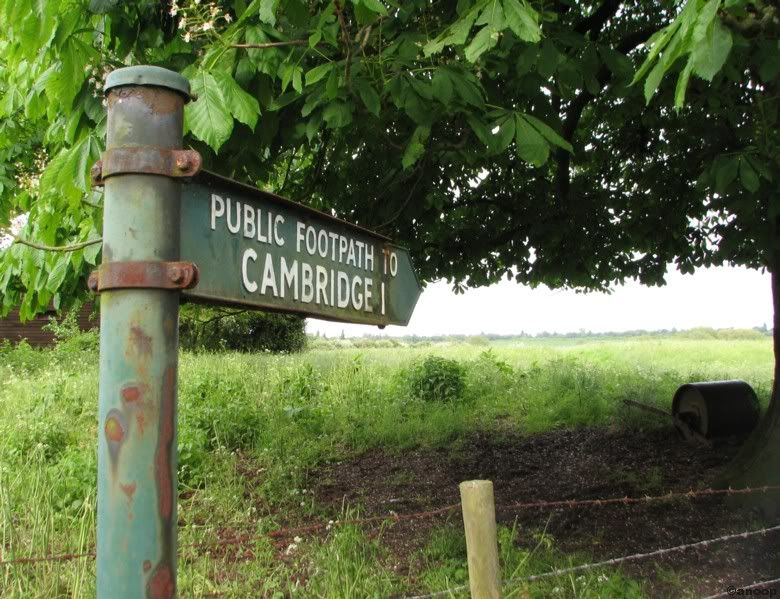 This is what I see after cycling for more than 5 miles, Cambridge 1 mile, maybe I took the wrong way to Grantchester, never mind.

There was a picnic spot, where at least a hundred people had gathered with their camping equipment, garden chairs. Parked my cycle – locked it securely to a small tree, and took a walk along the river Cam. I being from Karnataka (India), am not used to seeing such slow (almost stagnant) flowing river, but, there is a different beauty even in this calm placid river, cant expect Mekedatu kind of place everywhere.

House on the banks of River Cam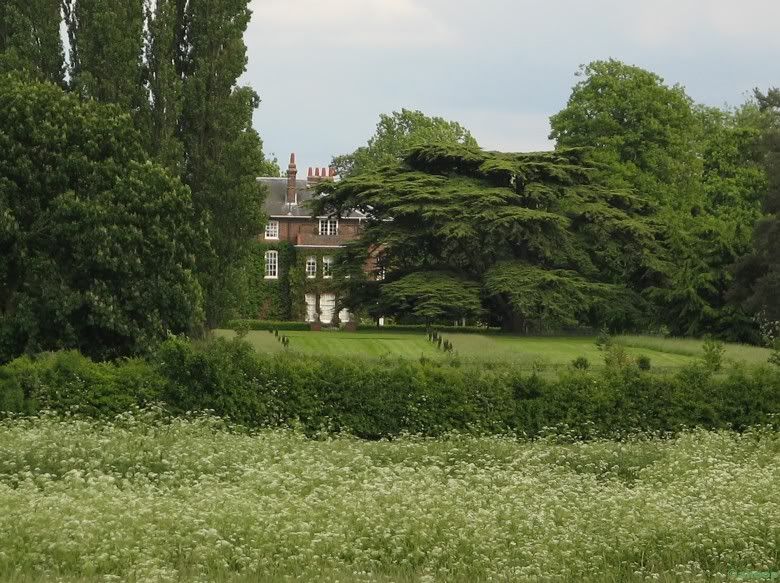 More than the house, what caught my attention was the huge Tree next to it; the tree-canopy from the distance is quite a sight.

Came across a farm with HUGE cows, these cows can kill an average Indian Bull with just a small nudge. As I was crossing this farm, two little girls who didn't seem to like these peaceful creatures began screaming, they sounded like high-pitched sirens, was not surprised to see these poor creatures getting agitated and become restless, they started running here and there. I waited for the scene to calm down and began to cross their path, keeping a wary eye for the young bulls. One of them maybe didn't like the colour of my shirt or something, started charging towards me, maybe out of affection, but, I was not waiting to check its true intention, my legs carried me towards survival – involuntary action. In this Mela (chaos) the cattle ahead of me started a stampede, oh boy! Immediately stopped running and began a brisk walk, with all my muscles in a state of nervous preparedness to sprint for dear life at the shortest possible notice. When I had put enough distance between me and the mad bulls, got out my camera with 12x zoom (bless the zoom functionality of my Camera) and tried to get the protagonist (apart from me) on film.

Look at the cheek of this young Bull, staring directly at me, and challenging me to come back. Now I had to find out an alternate route back to my cycle.

Punt (Boat) parked on the side of the river, there are very clear cuts on the bank to allow for such mooring.

Hmmm… an aluminium punting pole, that should definitely be lighter than the wooden punting pole I used the last time I punted, no wonder I was dead tired. Must keep this in mind and when I hire a punt for Grantchester, should get a similar pole.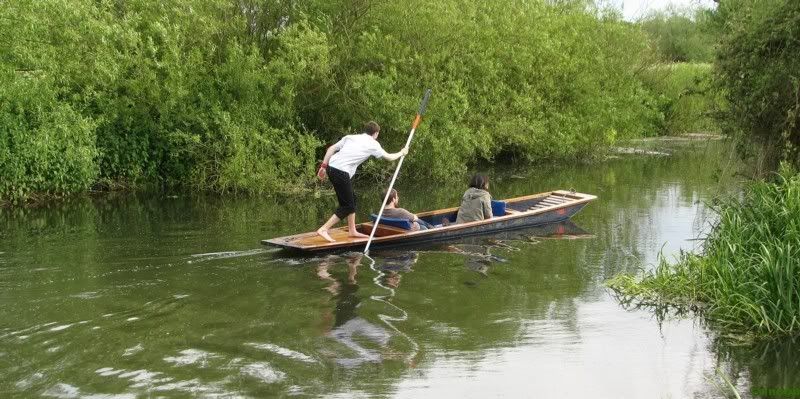 A Punt that is just arriving from Cambridge after an hour and half of punting, this should be seriously tiring. The Punter is doing it single handed, its not as easy as it looks, take my word for it.
Found an alternate route to safety err… to my cycle. Didn't want to head back home by the same way, had still plenty of energy and time with me. Noticed another cycle route, towards Newham, took that route.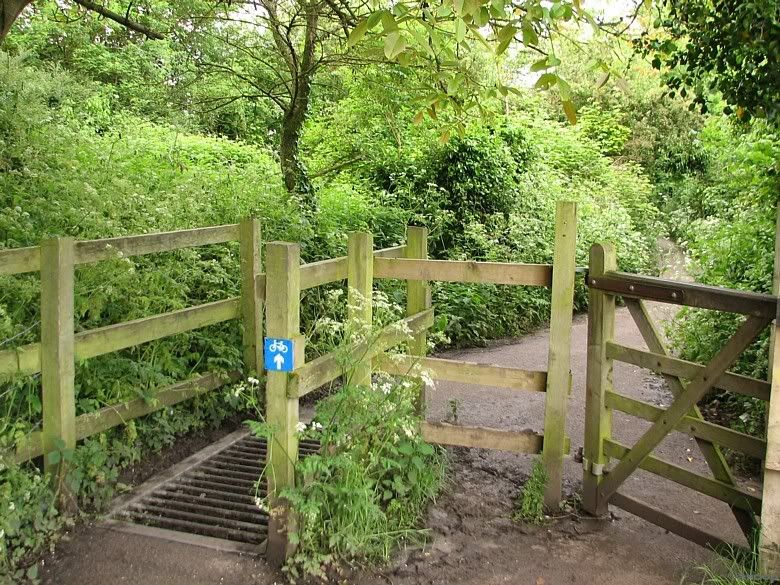 Wooden gate: along that route. The route took me through many farms, with no dangerous animals grazing.
To my surprise this route joined Cambridge from some direction, which I didn't know of. But, the routes are so well marked at every major junction; there are clear directions and distance mentioned towards city centre and other major landmarks inside Cambridge
.

The Bench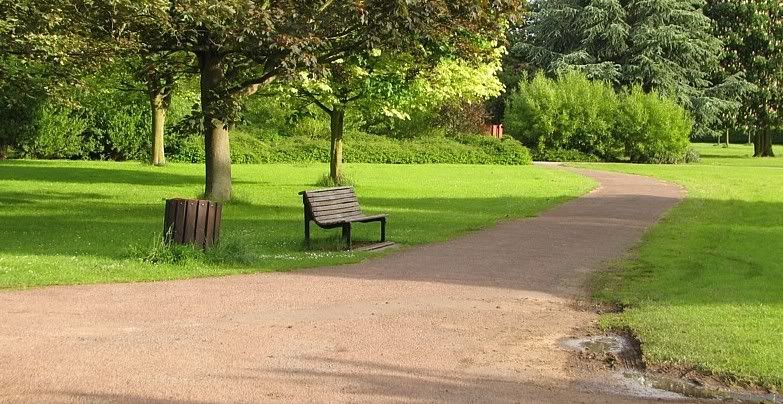 This bench looked as though it was inviting me to spend some time on it, took the invitation, though I was not tired.
I simply can't resist taking photos of water reflections and when there is a Punt in the scene, no way.