Place: Golconda Fort, Hyderabad, Andhra Pradesh
Date: 14 Sept and 22 Nov 2008

History:
Golconda Fort got its name from the 'Telugu' word 'Golla Konda' = Shepherds hill. It is believed that a shepherd found an idol on the hill which led to the construction of a mud fort by the then ruler of the Kakatiya Dynasty (1083 to 1323 A.D.). After the time of Kakatiya dynasty we can be reasonably sure to assume that the Golconda region was under the rule of Vijayanagar Empire, until it was conquered by Sultan Quli Qutub Mulk, the founder of Qutb Shahi dynasty in 1518. At about the same time the Bahmani Sulatanate disintegrated into the five 'Deccan Sultanates'. Golconda rose to prominence during the rule of Qutb Shahi kings (1518 – 1687) and was ruled by them until the Mughal Emperor Auragzeb conquered the deccan in 1687.
Over a period of 62 years the mud fort of Golconda was expanded by the first three rulers of Qutb Shahi dynasty into a massive fort of granite having a circumference of more than 5 kms. Golconda remained the capital of the dynasty till 1590 after which capital was shifted to Hyderabad.
—————————————————————————————-
This fort is located about 4-5 kms (straight line distance) from our house in Hyderabad (Jubilee Hills). As our house is at the edge of an elevated mound we can get a clear un-obstructed view from our house.



I have visited the fort two times till now.

First visit:
The pseudo-nearness of this fort from our house was what led me on a crazy backpacking hike to this fort on one fine Saturday in September. I was still (relatively) new to Hyderabad and not very much used to the shared auto's (shared auto = minimum 6 people), so I decided to walk as much as I could and get an auto if available, as I wanted it to be a budget trip. That day was also the last day for 'Ganesha Immersion' and all the roads were choked with trucks carrying Ganesha idols of varying sizes to the nearest tanks/water sources – so catching an auto was not useful.


Mostly I walked, but the high spirits of the varied dancing people (probably helped by spirits) accompanying the Ganesha kept the walk interesting. I had left my house at around 5:15 PM and was at the fort by 6:30 PM, the light was already fading and I knew I couldn't venture till the top or even get a decent look around; but all that didn't matter for some reason. I had reached Golconda fort by spending 10 Re on two shared autos and by walking rest of the distance. I spent some time climbing the rough slope inside the fort with two other guys who I met there. They were fasting (month of Ramadan) and un-willing to explore more as the time was near to break their fast and it was quite late for just me to venture any further, besides the light was fast fading too.
Again while heading back had to walk quite some distance before I got into a bus – autos were demanding exorbitant prices. Bus dropped me off at Tolichowki circle, from there a shared auto to Darga circle, from there I had to either walk up-hill for 2-3 kms or get crowded into an auto-rickshaw with 9 other people, I preferred to walk.
Second visit:
This time I went along with a colleague (Ashish) and his wife (Shwetha) in my new car, Suzuki Swift Vxi. We were in the fort by 5:20 PM. The locals posing as guides failed to convince us to hire them, but they did try impressing us with random facts of the fort till the entrance, the 'Fateh Darwaza'. They even demonstrated the amazing acoustic effects of the dome just next to Fateh Darwaza. The dome has diamond shaped grooves on its edges which sort of accentuates the sound, i.e. if a person claps by standing right at the centre, the clap resounds – like constructive echoes – and it is said that it can be heard at 'Bala Hisar' pavilion – the highest pointing the fort almost a kilometer away. They said that this worked as a warning note to the royals in case of an attack. But, I have my own take on it: What use is a clap to warn Royals who are at the highest point – being at the highest point one can easily see the enemy miles away! I would think this special acoustic arrangement was more for entertainments sake, to conduct musical concerts which could be heard to a great distance – Just a guess.


From here the path leads uphill with caves and empty passageways constructed randomly. There is no evidence of any living quarters or accommodation to sustain any human habitation; everything looks deserted and bare, though the caves at the lower level might have served as Horse stables. There are two distinct levels of fortification as seen in the below photos.


Most of the structures at the lower level are either destroyed or crumbling, and to add to the confusion some new structures and walls have sprung up at many places. The final level of fortification encloses a Mosque, a Temple and a open pavilion (possibly used for Namaz).

A group who wanted to try 'Dil Chahta Hai' pose.
The view from above was quite good and the breeze refreshing.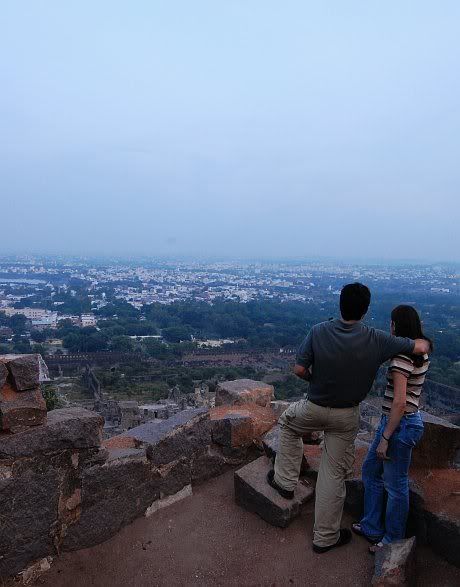 Ashish and Shweta enjoying the view.
On a clear day one can see Birla temple located next to Hussain sagar.
It was fully dark by the time we started heading back and we almost got lost if not for a couple (in no hurry) who guided us to the exit.