This is the first time I have ever posted pics on my blog within 24 hours of capturing them, a record of sorts! This had not been possible mainly due to the efforts involved – 1) in selecting the photos and doing the minimum, most essential post processing, 2) in writing a basic article around the pictures. In this post I have limited myself to only a few pictures and a bare string writing to support.
Yesterday was the first day of the nine day Dasara festivities held in Mysore. A date wise list of events is provided here . As usual, like in most of my sojourns, I came across this website pretty late, at around 5:30 PM, and was all set to head out at 6:15 PM. The agenda was to watch a play at Rangayana at 6:30 and after the play to walk around the palace complex capturing the festive atmosphere on camera.
The play was called as 'Checkmate' and it was free for all, i.e. free for anyone who could make it to the auditorium in time. It was a suspense thriller revolving around just three characters and was a decent watch. The plot takes root with the protagonist explaining how he plans his own murder so as to claim his insurance policy reaching an un-expected climax which I'm sure none would have expected.

A scene from the play where the protagonist and his wife are seen in jubilation after they are presented the cheque from Insurance Company.

The play ended by 8:45 PM. From here made my way towards the palace (Amba Vilas Palace) main entrance. The traffic flow around the palace had been regulated and vehicles were allowed to move only in clockwise direction, I think it was a worthwhile effort seeing the smooth flow of traffic as a result.




Mysore's own Big Clock Tower. A Mosque's minaret is also seen in the distance to the right of the Clock tower.

Over time I have learnt to ignore the passing glances from people when I'm involved in photography and have been successful in projecting myself as a tourist (in my own place) through my antics. Yesterday as I was involved in photography an Auto-rickshaw guy came towards me and started a conversation in broken Hindi, I replied in chaste Kannada, he shifted to Kannada (dipped in Urdu accent) and questioned(half concluded) whether I was from the press, for which I just nodded my head. He left me alone.




Sri Jaya Chamarajendra Circle with the lighted palace as the backdrop.

Soon, the palace lights were turned off.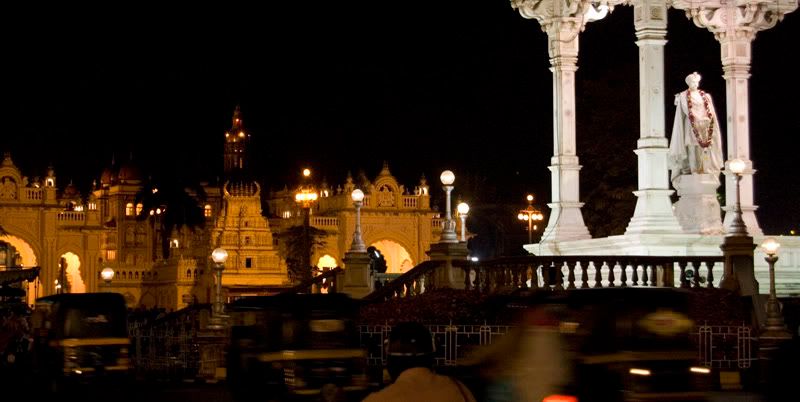 The palace lights present a glare which is a hindrance for photography, hence I have always loved it when the lights are turned off.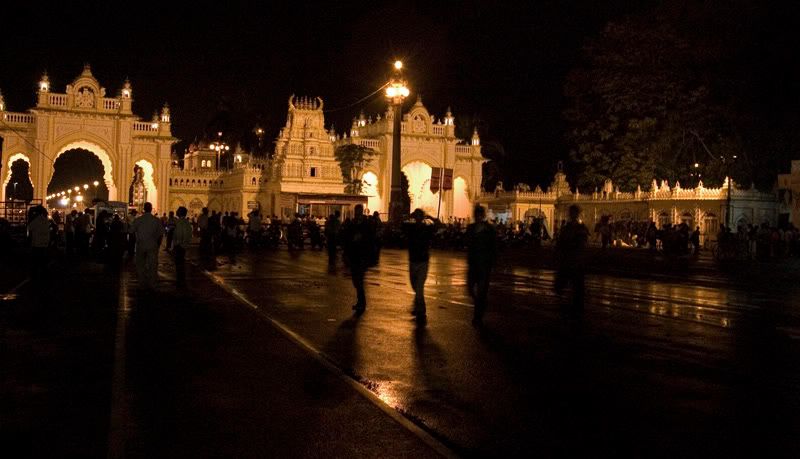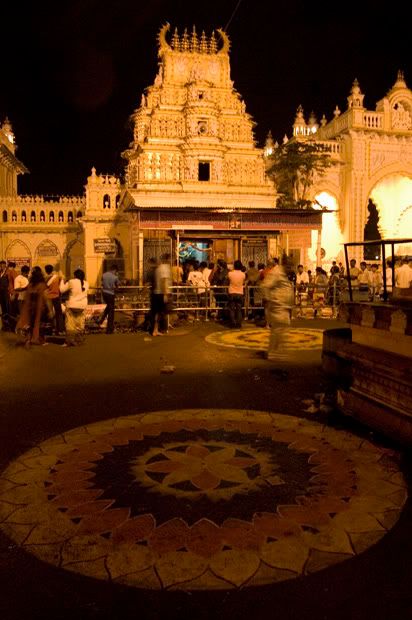 I have heard that the whole city is sprinkled with such Rangolis. I even found a few at Ramaswamy Cirlce. I hear (from unofficial sources) that each such Rangoli has cost 1,000 Re to get done; looking at the Rangolis its anyone's guess what percentage of it has ended up in the deep pockets of the middlemen!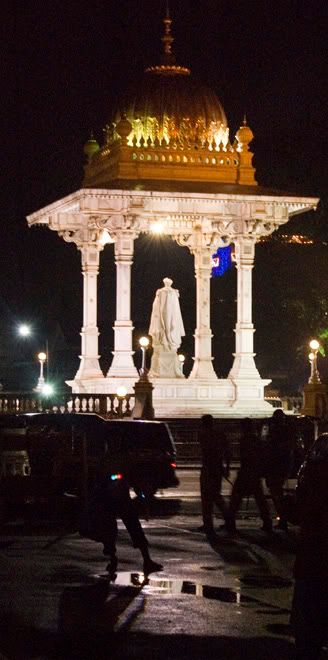 The kid standing near the puddle was trying in vain to attract customers to his glittering collection of wrist bands.
Date: 19th September 2009
Place: Mysore